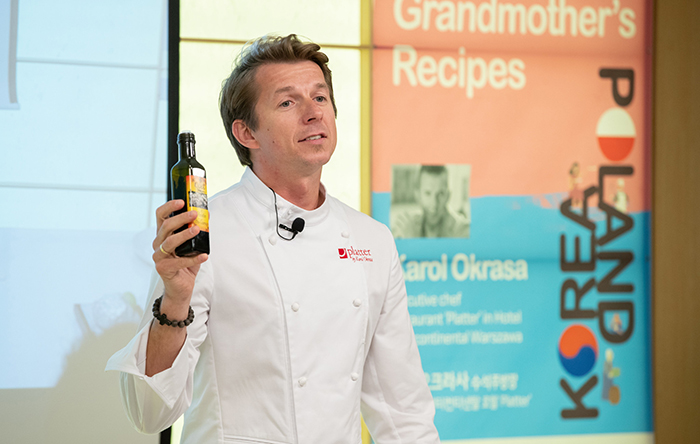 By Yoon Sojung
Photos = Kim Sunjoo 
Seoul | May 13, 2019
Polish culinary celebrity Karol Okrasa believes Korean and Polish food have common features.
"First of all, it's tasty and familiar," he said in talking about the charm of Korean food.
The executive chef at the InterContinental Warsaw Hotel on May 13 presented a sample of his country's home cooking in a "master class" cooking show at the Korean Cuisine Culture Center in Seoul's Jung-gu District. He was joined by Shin Chang-ho, Korean chef and owner of the Michelin-starred restaurant Joo Ok, who introduced Korean home cuisine.
The show marked the opening of the 2019 Korean & Polish Cuisine Culture Exchange, a joint program scheduled to run from May 13-31 and hosted by the Korean Food Promotion Institution (KFPI) and the Polish Embassy in Seoul to mark the 30th anniversary of diplomatic relations.
"Korean food such as kimchi or tofu menus can be easily adapted to Polish cooking," Okrasa told the audience.
From 2010-11, the Polish chef hosted his own TV cooking show, "Tastes of Time with Karol Okrasa," on the Polish state network TVP. There, he presented recipes of various Korean entrees such as cabbage kimchi and tofu and showed how to adapt Korean recipes to Polish cooking.
During the master class, Okrasa introduced several of his grandmother's recipes by featuring kluski śląskie (dumpling-shaped potatoes) and pieczonej kaczki (roasted duck with cream sauce). Earlier, chef Shin presented Korean japchae cellophane noodles and stir-fried vegetables and gamja ongsimi (potato dough soup) by using spring greens such as aster leaves, bamboo shoots and zucchini.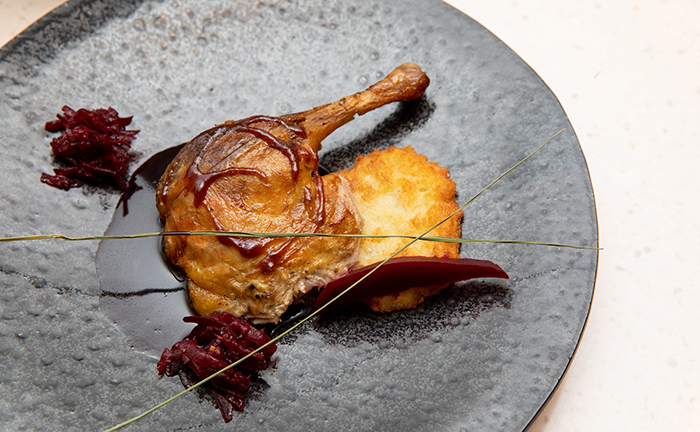 After sampling the gamja ongsimi cooked by Shin, Okrasa explained that the cuisines of both countries are similar by saying, "Kluski śląskie also has the same chewy texture of this Korean soup."
"Poles eat a lot of potatoes, and we also have a potato dish that tastes like the Korean dish tteokbokki (rice cake in spicy red sauce)."
The most distinctive characteristics of Polish cuisine, the Polish chef said, are the extensive use of fire to cook such as grilling or smoking meat and a variety of wild berry liquors.
"I know there are many kinds of kimchi using a variety of ingredients. Likewise, we (in Poland) have a variety of tastes using a wide range of wild berries such as elderberries and various herbs," he said, adding, "I'm sure Koreans will love it once you taste it."
Calling kimchi his favorite Korean food and even making it for himself, Okrasa said, "This is my second visit to Korea and visiting the kimchi museum has been the most memorable part of this trip."
"I hope that food can help peoples of the two countries better understand each other's culture and feel even closer."
The Ven. Sunjae Mayul, president of the KFPI and a noted temple food master, said, "Along with the Polish Embassy in Korea, we designed this food exchange event to learn more about home cooking in both countries on the occasion of the 30th anniversary of Korea-Poland diplomatic relations."
"Thanks to this event, I hope that we can find more places to enjoy home cooking from both countries so that we can feel much closer to each other."