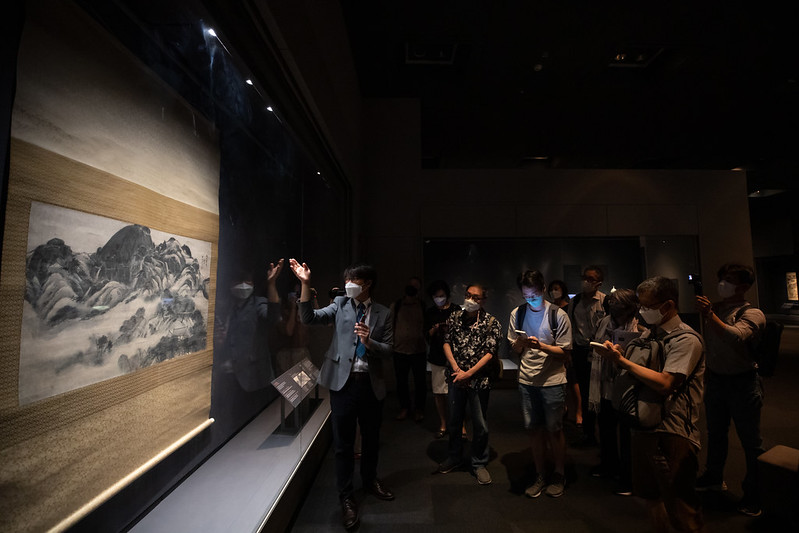 By Lee Kyoung Mi and Yoon Hee Young
Seoul
Video = Lee Junyoung
Two special exhibitions featuring cultural properties and art collections donated by the late Samsung Group Chairman Lee Kun-hee's bereaved family on July 21 were opened at the National Museum of Korea (NMK) and the National Museum of Modern and Contemporary Art, Seoul (MMCA).
Both museums on July 20 held a media tour ahead of the opening to promote the exhibitions.
The NMK's "A Great Cultural Legacy: Masterpieces from the Bequest of the Late Samsung Chairman Lee Kun-hee" displays 77 pieces, including 28 government-designated treasures, spanning 21,693 donated pieces.
Covering every period and category of Korean cultural properties, the exhibition has among its highlights "Inwangjesaekdo (Scene of Inwangsan Mountain After Rain)," a masterpiece by 18th-century landscape painter Jeong Seon; Gilt-bronze Standing Bodhisattva Triad (National Treasure No. 134), showing the exquisiteness of a Buddhist statue during the Three Kingdoms era; and "Thousand-Armed Avalokiteshvara," the only surviving painting of its kind from the 14th-century Goryeo Dynasty period. Others include earthenware and bronzeware from the Bronze and Iron Ages, gilt-bronze statues of Buddha and earthenware during the Bronze Age and the Three Kingdoms era, Buddhist artworks and celadon during the Goryeo era, and paintings and pottery from the Joseon Dynasty.
The MMCA is displaying 58 masterpieces from the 1,488 pieces it received from Lee's collection. The 34 Korean artists featured include Lee Jung-seob, Park Soo-keun, Kim Whanki and Chun Kyung-ja.
The exhibition "MMCA Lee Kun-hee Collection: Masterpieces of Korean Art" has three themes: "Adoption and Transformation", "Shows of Individuality" and "Setting Down Roots and Seeking New Avenues." The event features artworks from the 1920s to the 70s.
Leading works showing the traits of the time include "Women and Jars" by Kim, "Bull" by Lee and "Woman Pounding Grain" by Park.
Saying the museum selected the finest masterpieces from all ages and countries, MMCA Director Youn Bummo added that the exhibition will foster the prosperity of Korea's modern and contemporary art and give the public the opportunity to share healing and imagination.
The NMK's exhibition runs until Sept. 26 and the MMCA's ends on March 13 next year. Admission is free but visitor capacity is limited according to quarantine measures against COVID-19.