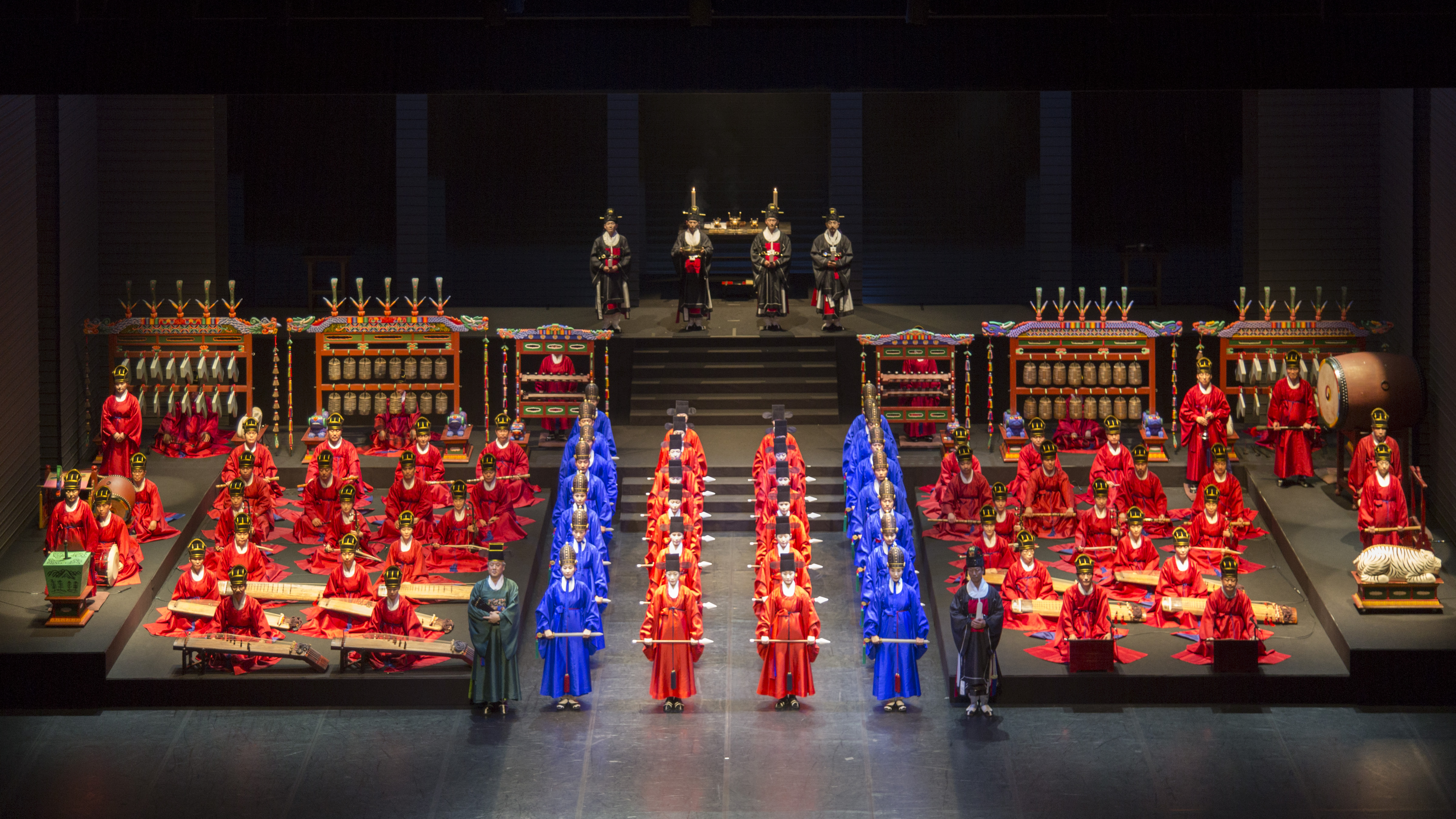 By Kim Hyelin and Yoon Hee Young
Mass migration to hometowns, tteokguk (sliced rice cake soup), the charye (ancestral rites) table, seongmyo (visiting ancestral graves to perform rituals), yutnori (a traditional board game with four sticks) and sebae (prostration to elders).
These keywords for Seollal (Lunar New Year), one of Korea's two biggest holidays, share a common feature: meeting. This year, however, offline contact has stopped for the sake of public health and safety due to the pandemic.
Fortunately, experiencing Seollal culture remains possible despite the inability of people to gather. The following are online events for the holiday period featuring cultural programs requiring no contact.
For the first time, the National Gugak Center from Feb. 11-14 at 3 p.m. will present four of its leading works online through its official YouTube channel (https://www.youtube.com/channel/UCmN4xFSlmWw-_d2riM-ep0A) and Naver TV (https://tv.naver.com/).
The center selected masterpieces whose online debuts were delayed due to copyright issues, and will air them free just once during the holidays.
"1828, Yeongyeongdang," slated to air on Feb. 13, showcases 19 court dances created in 1828 by Crown Prince Hyomyeong at a party to celebrate the 40th birthday of his mother, Queen Sunwon, at Yeongyeongdang Hall of Seoul's Changdeokgung Palace.
Staged as a regular performance by the National Dance Company of Korea in November last year, the show was lauded for its various instrument layout and sophisticated costumes and dance that were deemed close to the original, resulting in a new court dance.
"Jongmyo Jeryeak," an elaborate performance of ancient court music, will be broadcast on the final day of Seollal on Feb. 14. The video shows the work's 2015 premiere at Theatre National de Chaillot in Paris to mark the 130th anniversary of diplomatic ties between Korea and France. Performed by a large-scale arts troupe of 85 members, the performance, designated National Intangible Cultural Heritage No. 1 in Korea, was recorded in 4K resolution with French staff.
This will be the first time for the video to be shown online in six years.
For those not needing subtitles when seeing Korean performing arts, "Donggung Palace – A Day of the Crown Prince" (unofficial English title) on Feb. 11 and "Kokdu: A Story of Guardian Angels" on Feb. 12 are also recommended.
"Donggung Palace" is the story of Hyomyeong, whose love of dancing is shown in his creation of nature-inspired court dances, and features choreography and poetry. It features 10 court and original dances including "Chunaengjeon" (Dance of the Spring Nightingale), which was inspired by the bird on a spring day, and "Bakjeommu," (Butterfly Dance), which portrays the insect's elegant movements.
"Kokdu," the film version of the center's eponymous leading performance, was featured in global cinematic events including the Busan International Film Festival in 2018 and the Berlin International Film Festival and the New York Asian Film Festival in 2019. This work uses gugak (traditional music) and dance to tell the journey of a young brother and sister trying to find their grandmother's kkotsin (flower-imprinted shoes); they later fall into the netherworld with four kokdu (guardian spirit) guiding the way.
On its official YouTube channel (https://www.youtube.com/user/tnfmk), the National Folk Museum of Korea from Feb. 11-12 will air "Seol Heunggyeowoon(ga)" (Joyful Songs for Lunar New Year), a modern reinterpretation of Korean folk music, and "Gyeonggi Nambu Gwangmyeong Nongak Pangut," a shamanistic ritual using farmer's music from southern Gyeonggi-do Province that wishes the well-being of the family and village through the medium of pungmul nori (traditional folk music and dance performance).
Overseas, 27 Korean Cultural Centers (KCC) in 24 countries will introduce Seollal culture through programs featuring Lunar New Year traditions including tteokguk, yutnori and sebae via Korean webtoons, animation and video.
The KCC in Belgium on Feb. 11 will release a video on Seollal's meaning with New Year's greetings from K-pop girl group Blackswan on the KCC's official YouTube channel (https://www.youtube.com/channel/UCJcjIt45MPLGEhdPMy3ACNg).
The KCC in Canada on Feb. 12 will show how to make tteokguk through its ongoing series "K-Food Webtoons" on its website (http://canada.korean-culture.org/en/1260/board/985/list).
Details of the events are available on each KCC's website (http://www.kocis.go.kr/eng/openInformation.do).
Country
Date & Time
Content
New York
Feb. 11 at 6 p.m.

Video of traditional percussion performance

"Jangdan: Conversation of the Breath"

Australia
Feb. 12 at 6 p.m.

Demonstration of 5 ways to make tteokguk, brewing process of dosoju (traditional liquor)

Argentina
Feb. 10-11 at 7 p.m.

Online masterclass: tteokguk (rice cake soup)

       quiz contest on Lunar New Year

Kazakhstan
Feb. 12

Video introducing Seollal customs

Egypt
Feb. 10-11
Learning Korean expressions related to Seollal

Interview with and performance by pansori (solo lyrical opera) singer Lee Hee-moon