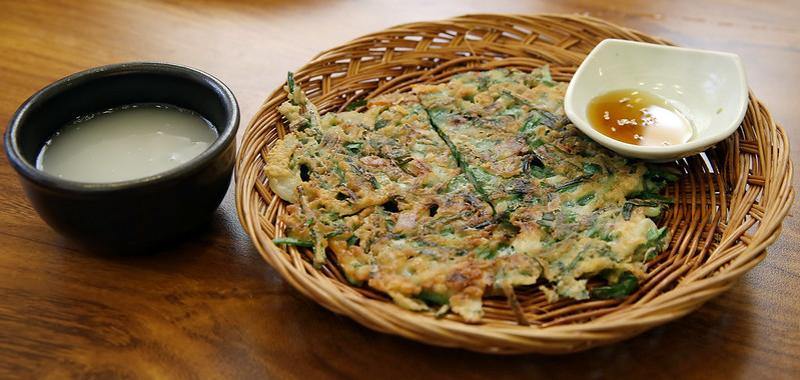 By Lee Jihae
The New York Times has featured the Korean pancake jeon.
In the article titled "An Easy Path to Dinner, by Way of Korea" posted on Jan. 26 in the daily's international edition, jeon was described as an easily made food through the use of an array of ingredients including vegetables and seafood.
Times food writer J. Kenji Lopez-Alt described jeon as "Korean pancake," adding, "For the most basic, all you need is flour, cold water and a mix-in or two."
He also called the dish "quick, foolproof, adaptable and inexpensive."
The article described the food as suitable for an "after-school snack, a light lunch or a landing pad at the base of your stomach for a night of drinking makgeolli (unfiltered rice wine)."
Lopez-Alt shared his experience in trying the ingredients used to make jeon, saying, "In my testing, I've found that swapping some flour for starch (such as corn, potato or tapioca) will make your pancakes a little lighter and crisper."
"Egg whites will cause them to puff and rise as they fry, while egg yolks will tenderize them."
Jeon can make use of "virtually any vegetable, seafood or meat, and bound with any type of flour," he said, adding, "I solved our 'what do we do with these random vegetables?' problem virtually overnight."
The article also listed the ingredients for haemul pajeon (wheat-flour pancakes stuffed with squid, oysters and scallions), nokdu jeon (those made with thick and crunchy mung bean and pork) and Dongnae pajeon (a Busan specialty featuring jeon with dark green onions bound together with a thin egg batter).
The writer also gave his own recipe for jeon and the soy sauce dip.