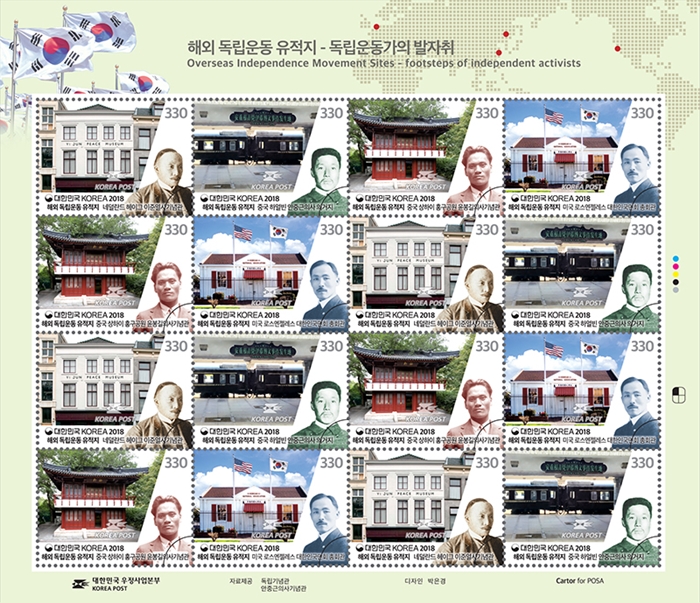 By Kim Hyelin and Hahm Hee-eun 
Four representative historic sites that were locations for Korea's overseas independence movement will be commemorated on postage stamps to mark Korean Independence Day on Aug. 15.
The Ministry of Science and ICT announced on Aug. 6 that 688,000 postage stamps will be issued featuring Korea's Overseas Independence Movement Sites, which will allow collectors to follow the footsteps of Korea's independence activists as they worked for Korean freedom at locations all around the world.
The postage stamps feature historic sites where Korea's overseas independence activists lived and worked, and show the faces of the independence activists. The four historic sites are: the Yi Jun Peace Museum in The Hague, the Netherlands; the site of Ahn Jung-geun's heroic act at Harbin Station in what was then Manchuria; the Yun Bong-gil Memorial Hall at Hongkou Park, now Lu Xun Park, in Shanghai, China; and the Korea National Association Memorial Hall in Los Angeles, California.
The Yi Jun Peace Museum in The Hague is where Yi Jun was sent as a special envoy to announce the unfairness of the 1905 Protectorate Treaty, also known as the Eulsa Treaty, that deprived Joseon of its diplomatic sovereignty, at the 1907 Hague Peace Conference. Yi Jun sacrificed his life for Korea during his diplomatic activities. At the museum, documents about Yi Jun's diplomatic activities are on exhibit.
The site of Ahn Jung-geun's heroic act is at Harbin Station. Ahn assassinated Ito Hirobumi, the former Japanese prime minister that pushed for colonization. The exact spot where Ahn Jung-geun pulled the trigger and the spot where Ito Hirobumi collapsed are both marked at the site.
The Yun Bong-gil Memorial Hall is where Yun threw an explosive device onto a platform where some Japanese military officials stood. Yun was arrested on-site and was executed by firing squad at the age of 25. The memorial outlines Yun's life and activities as an independence activist.
The Korean National Association General Meeting Hall in LA served temporarily as a building for the provisional government of Korea during colonial times. The United Korean Federation in Hawaii and the main headquarters of Korean National Association in San Francisco united in 1910 to form a unified center for the Korean independence movement in the U.S., and to support the provisional government by collecting funds for the independence movement.
Kang Seong Ju, the president of Korea Post, said, "We have issued the commemorative series of postage stamps to raise public awareness about the divine spirit and patriotism of Korea's independence activists."