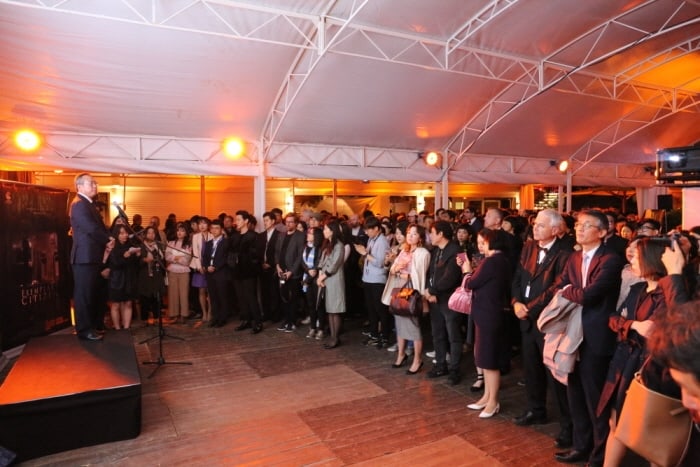 By Jung Joo-ri and Kim Young Shin
After the historic Inter-Korean Summit on April 27, the movie industry is also planning a joint project for the South and the North.
The Korean Film Council (Kofic) has announced its plans to establish a project team dedicated to inter-Korean exchange in the film sector.
Kofic chair Oh Seok Geun, currently attending the 71st Cannes Film Festival in France, unveiled the specific plans for the joint film project between the two Koreas, which will include the digitalization of films in North Korea, and preparation of a joint event to celebrate the 100th anniversary the first-ever Korean movie, which will take place in 2019, to a group of journalists gathered at the Korean Film Night at Cannes, in southern France on May 13.
"I hope that film authorities from the South and the North can come to an agreement to jointly hold a celebratory event for the 100th anniversary of Korean film," said Oh, who emphasized that celebrating the anniversary together could be the starting point for the resumption of exchanges between the two Koreas in the movie industry. "All of these ideas are yet in the planning stages. When the dedicated team is established, we will announce the details of the project, together with the Ministry of Culture, Sports and Tourism," he said.
This is not the first time for two Koreas to plan to work together on films. After the June 15th South-North Joint Declaration in 2000, 10 South Korean movie authorities, including director Im Kwon-taek and former Chairman Kim Dong-ho of the Busan International Film Festival, visited North Korea in November 2000 at the invitation of the North Korean office of the Korean Council for Reconciliation and Cooperation. In April 2003, Kofic established a committee for inter-Korean movie exchanges and held a meeting in Pyeongyang in 2005 to discuss ways to cooperate between the movie industries in two Koreas.
etoilejr@korea.kr