By Hahm Hee-eun
Photos = Kim Sunjoo
Video = Choi Tae-soon
Seoul | July 18, 2018
"Different people from all around the world unite through music. Nothing can be more amazing than that."
A new global pop group, Now United, has visited Korea for a week starting on July 6. Now United is an ambitious project managed by XIX Entertainment and created by Simon Fuller, famously known for producing pop sensation Spice Girls and the TV series "American Idol." After a week-long Los Angeles audition in July, 14 potential stars from different nationalities were finally selected for the group.
With the release of "Summer in the City," Now United debuted in April, and their new single, "What are we Waiting For?" will be coming out this summer. Part of the music video for their new single was filmed in Korea.
The members are Jeong Heyoon from Korea, Noah Urrea from the U.S., Bailey May from the Philippines, Lamar Morris from the U.K., Josh Beauchamp from Canada, Diarra Sylla from Senegal, Sina Deinert from Germany, Sofya Plotnikova from Russia, Joalin Loukamaa from Finland, Wang Krystian from China, Shivani Paliwal from India, Sabina Hildalgo from Mexico and Yoshihara Hina from Japan.
Why did you want to become a member of Now United?
Sofya: Two years ago, I had a big dream to be part of a big project and go to America. I don't know why, but I knew that there were lots of dancers in the United States who could help me grow. In two months, I got a letter saying that I was invited to a boot camp for Now United in LA, so there was a big audition and for one week I was in LA with all these amazing people. At the time there were four or five people from each country, and at the end of the week, our producer Simon Fuller chose me from Russia. Now I'm in this amazing group and I'm so happy that my dreams have become true.
Heyoon: We all dreamed about becoming amazing performers, and for me, especially, I wanted to just travel around the world, sing and dance my whole life. I was a choreographer before, in Korea, and then I heard about the project and thought, "Wait, this is my dream. If I can achieve it now, I should just go for it." It was hard for me, breaking out of the comfort zone, because it was my first time actually singing as a career. But I met everyone in Now United, and I'm really happy right now. The special part about Now United is that we're all from different countries, as you can just see by standing. We can bring our culture and personalities from our own countries, mix it up together and create something new as a global pop group.
Anything from your home country that you really want to introduce the world? Anything you really miss from your home country?
Shivani: I'm from India and there are a lot of different festivals in India. Now United will be having a world tour in India around the end of October, when it's the season for Diwali, also known as the Hindu festival of lights. I'm already excited to show the festival to our members.
Sabina: What I miss the most is Mexican food. In a lot of countries, they have tacos, but I think they're fake tacos. I just can't wait to take them all to try real tacos.
Noah: For me, I really miss my guitars at home. I have a super beautiful white and black jaguar guitar, named Jenny, and an acoustic guitar named Izzy. Those are my two favorite guitars. And also just sleeping in my own bed. I think everyone can agree, but we're having so much fun travelling around.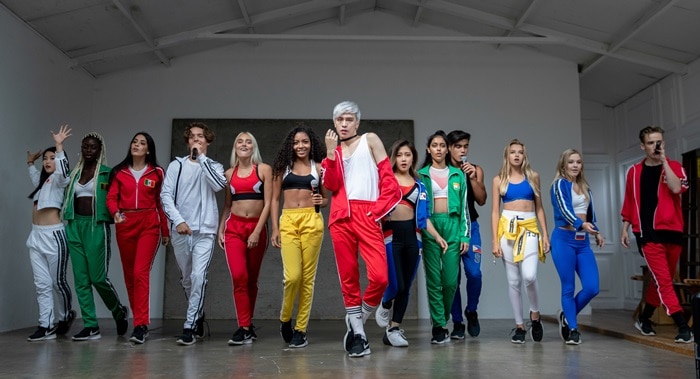 What are the small things that make you happy in your daily life?
Any: We just did something called "Guardian Angel," which is an amazing idea by Heyoon Jeong. So basically we do a drawing and we get a person's name, then we have to give little gifts throughout the day to make that person happy. But it's secret, you can't tell. Sometimes I'm super tired, and then I open my hotel door, and there is something on the floor and a little note saying "Be happy." It's just the best thing in the world.
Bailey: I think reading messages from our fans makes us really happy, because they're very devoted to us, very dedicated. Sometimes there would be notes that say "Be happy today", "Keep doing what you're doing", "You're inspiring people." I think having these messages are very important for us.
Noah: Just singing and dancing together all the time. This is literally our life. Music and dancing is everything to us. For instance, when we go to the stores and hear Blackpink on the radio, we would all go like "Ddu-du Ddu-du" and start dancing like crazy. That brings me a lot of joy. No matter what we're doing, or where we're at, we can have so much fun together. I think that's very special.
What was the most inspiring experience you had in Now United so far?
Josh: A really inspiring moment for me? Well, there's, like, a ton we've had on this tour, but um… one of the biggest ones for me was when we went to Russia. We went to a hospital and we performed for the children there and just seeing their faces made us so happy. They got up to dance with us. Being able to inspire those people in that place just warms my heart.
Joalin: For me, my whole life I was in a small town. I'm from Finland, Turku, but I lived in Mexico, in a place called Playa Del Carmen Then going to LA and seeing everyone, how hard they had to work to get where we're now is just so inspiring. We all have a dream and we all want to work hard for it, and being with all these people, who really want to work hard, is very inspiring.
Diarra: I feel like the most exciting part so far is just travelling around the world and meeting different people and cultures, learning how to speak different languages, and being united through music. Nothing can be more amazing than that.
hehahm@korea.kr