Dokdo Island, the easternmost part of Korea, will soon have in place a new facility that supervises the safety of fishing boats in its vicinity.
The Ministry of Oceans and Fisheries will establish the location-tracking VHF-DSC system for fishing boats this month, helping them fish in a safe manner around the island, as well as to prevent any incidents at sea.
Since 2012, the same location-tracking system has been used at the so-called fishing information communication stations at 16 spots along the coastline, including in Incheon and Gunsan in the west, and then in Yeosu and Busan in the south, in Pohang and Sokcho in the east, on Jeju Island and, finally, on Ullengdo Island off the eastern coast.
The control center supervising all these 16 facilities is stationed in Seoul. However, there is no such system on Dokdo Island, and the system on neighboring Ullengdo Island can't reach boats navigating in and around Dokdo Island. For that reason, there was no way of ensuring the safety of fishing vessels operating in blind spots off of Dokdo Island.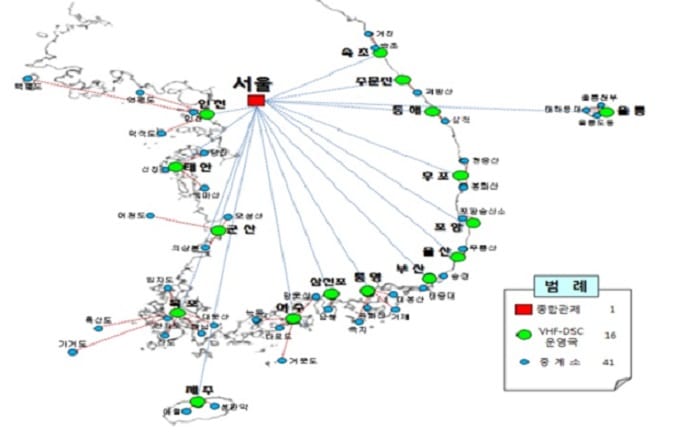 According to the ministry, a new monitoring system designed to maintain the safety of fishing vessels will be set up to distinguish one vessel from another, too. Receiving data from the monitoring system, the new facility on the island will respond to any marine incident and cooperate with other agencies. The new system will help about 25,000 fishing boasts, displacing more than two tons, do their work as safely as possible.
"This system will contribute to the safety of any passing boats within its reach, as well as to ensure the nation's maritime jurisdiction," said an official from the Ministry of Oceans and Fisheries. "We will do our best to help the vessels fish safely with no accidents."
By Sohn JiAe
Korea.net Staff Writer
Photos: Korea.net and the Ministry of Oceans and Fisheries
[email protected]