By Korea.net Special Reporting Team 
Hanoi | Feb. 24, 2019
On Feb. 24, just three days ahead of the second North Korea-U.S. summit, chilly air from the rain could not dampen the heated atmosphere of preparation for the big event.
Around 3,000 journalists and reporters registered with the international media center set up at the Vietnam-Russia Cultural Friendship Palace in Hanoi, about 500 more than in the first Pyeongyang-Washington summit in Singapore in June last year. The center was equipped with a large conference room of 1,111 seats, 20 small and mid-size meeting rooms, an exhibition platform and staff offices.
Over the weekend, the facility was filled with personnel busily checking security, multimedia facilities and internet connections.
"All seats are equipped with LAN cables," said Nguyen Ngoc Hui, the center's supervisor of internet connections. "All network connections here work fine."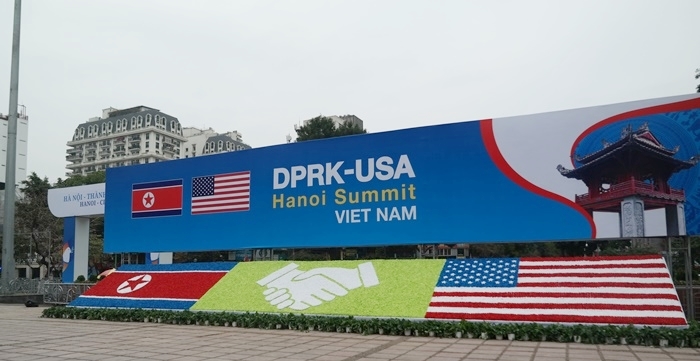 Across the street from center stood a large billboard publicizing the upcoming summit, featuring the flags of both countries against a blue background. The image of a handshake under the sign made of artificial flowers symbolized the hopes for the meeting.
All around Hanoi, workers replaced sidewalk blocks or set up sculptures related to the upcoming summit in anticipation of the historic talks.