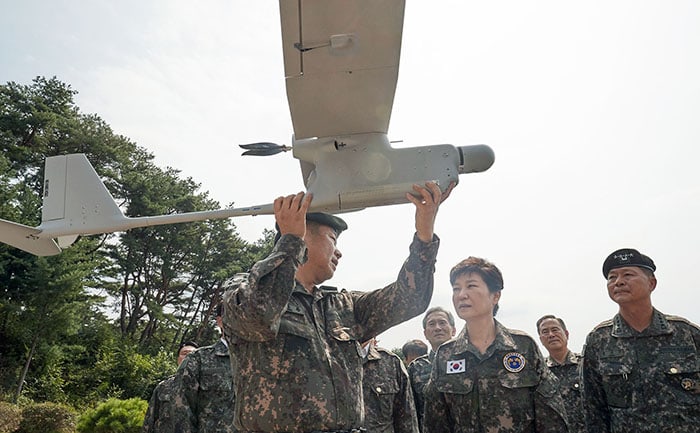 "Probable threats."
North Korea's nuclear threats are no longer "potential" but are "probable" threats, said President Park Geun-hye.
On Aug. 24, under the severe security threats caused by the growing possibility of a North Korean provocation, President Park Geun-hye visited a central battalion of frontline troops as part of the Ulchi Freedom Guardian military exercises and inspected the nation's in-field military preparedness.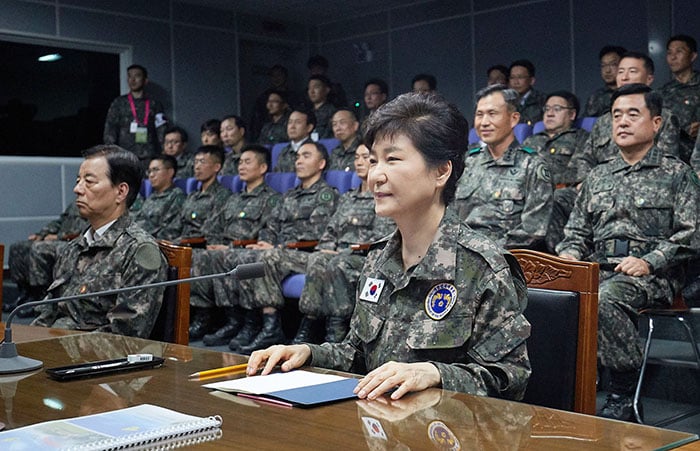 "After its nuclear weapons tests and long-range missile launches earlier this year, North Korea has now come up with even bolder provocations, such as threats of preemptive strikes and even submarine-launched ballistic missile launches just this morning on Aug. 24," said the president, calling the North's nuclear and missile threats no longer merely "potential" but actually "probable" threats that are approaching closer and closer every moment. "Considering the North's irrational decision-making process under its one-man dictatorship, as well as the hard-to-predict character of Kim Jong-un himself, it's fair to say that the risks of a threat happening are very high," she said. Particularly during a time when the North's isolation and economic challenges are deepening, and when even high-class North Korean officials are seeking asylum, a broad range of provocations might be made to suppress any internal turmoil, she stressed.
"The Ulchi Freedom Guardian military exercises," said the president, "as its name implies, are exercises to complete our mission to protect liberal democracy. Only our strong security, along with tight cooperation with the international community, can stop the North's provocations and brutality, and help us to face a new era."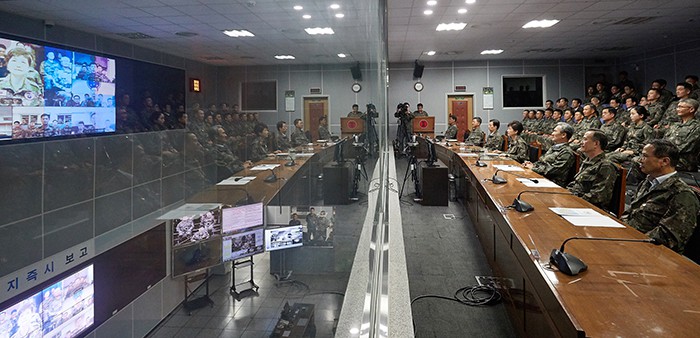 "As I have always stressed, I trust the judgment and actions taken by our commanding officers," said the president, mentioning that the leadership of the field commanders allowed the army to take swift and firm action against the North's bombardments last year. "Our reaction that time was considered as a shock to the leaders in the North, and is remembered by them as the 'Shame of August,'" she said. She added that our firm actions showed that the North's brinkmanship would no longer work, and that it intimidated the North from making other provocations.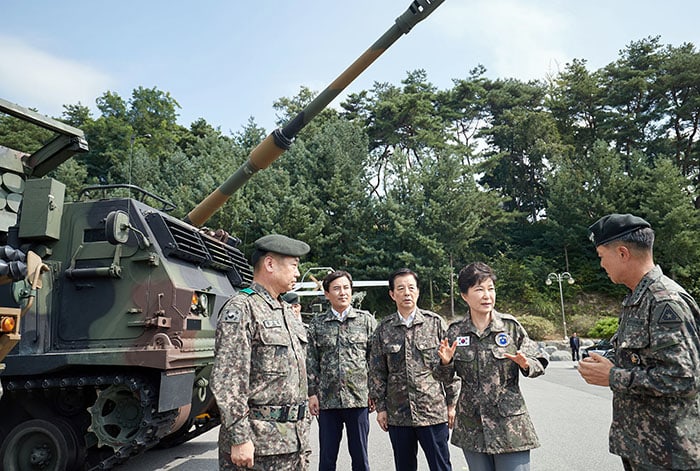 During her visit to the frontline troops, the president looked around an artillery unit and inspected unmanned aerial surveillance vehicles. She also received an explanation about the K-9 self-propelled howitzer, multiple rocket launch systems and the anti-aircraft missile Chunma from the soldiers on the ground, and offered them encouraged in their honorable endeavors.
By Jeon Han, Chang Iou-chung
Korea.net Staff Writers
Photos: Cheong Wa Dae
[email protected]