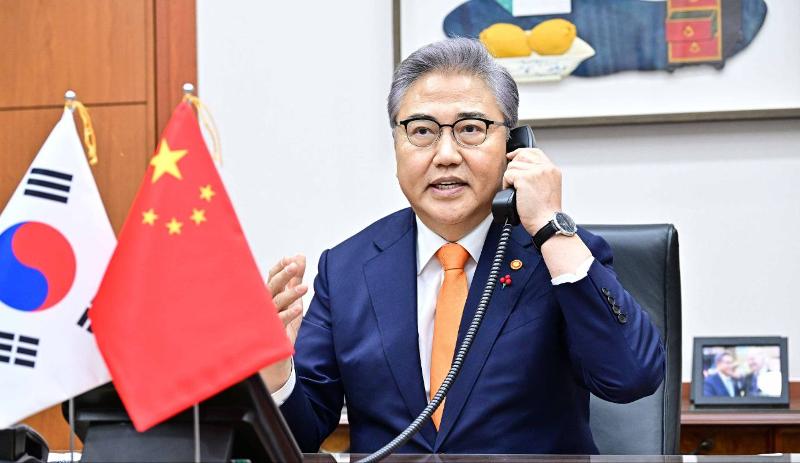 By Kim Seon Ah

Minister of Foreign Affairs Park Jin on Jan. 9 held his first phone conversation with his new Chinese counterpart Qin Gang.

The Ministry of Foreign Affairs in Seoul said Minister Park from 8:30 p.m. that day called Minister Gang to congratulate him on his appointment. They spoke for about 50 minutes on matters of mutual interest such as bilateral relations, the Korean Peninsula, and regional and international issues.

With both countries marking last year the 30th anniversary of two-way ties, both ministers reaffirmed their governments' commitment to develop a healthier and more mature bond based on mutual respect and benefits and common interests.

They also agreed to closely cooperate to smoothly implement an important consensus reached on the direction of bilateral relations that both sides agreed on in November last year in a bilateral summit held on the sidelines of the summit of the Group of 20 economies.

The two ministers agreed to keep up the exchange momentum between their leaders, request visits between foreign ministers and boost regular communication. They also agreed to promote a "2+2" diplomatic security dialogue by the foreign and defense ministers of the two countries and strategic talks and a committee for promoting human exchanges both at the vice minister level.

Seoul and Beijing pledged to achieve palpable results in sectors directly felt by the public through dialogue on supply chains, follow-up negotiations on free trade agreements, and talks on fine dust and climate change.

Turning to the Korean Peninsula, Minister Park said it is in the joint interests of Korea and China to induce North Korea to refrain from making further provocations and begin dialogue on denuclearization. He urged Beijing to play a constructive role for peace and stability on the peninsula.

He also explained to Minister Qin that Seoul's recent tightening of regulations on people arriving from China was based on scientific grounds.
The two ministers agreed to communicate and cooperate to resolve regional and global issues like stabilizing the COVID-19 situation and stimulating economic recovery.

Last month, Minister Qin was officially named foreign minister in succeeding Wang Yi. Minister Park sent China's new chief diplomat a congratulatory telegram on his appointment.

sofiakim218@korea.kr