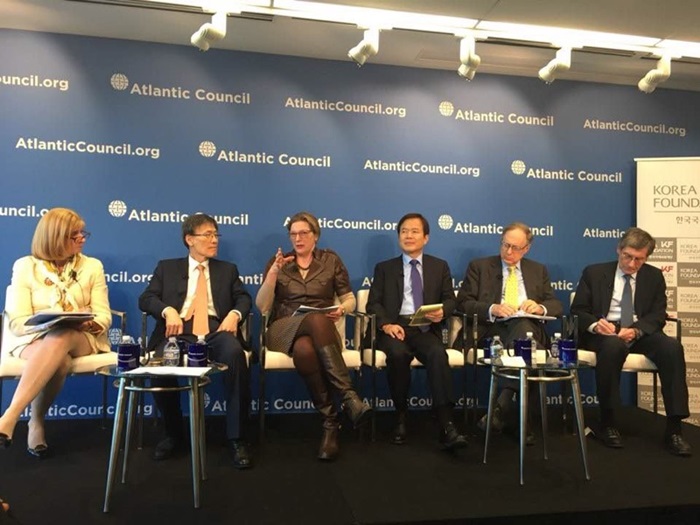 By Park Gil-ja and Yoon Sojung
Former American and South Korean diplomats on March 5 said the latest summit between North Korea and the U.S. in Hanoi, Vietnam, was not a failure and expressed optimism over the prospects of further talks between both sides.
In the forum titled "Strengthening the U.S.-R.O.K. (Republic of Korea) Alliance for the 2020s hosted by the Korea Foundation and the Atlantic Council in Washington, they emphasized the convergence displayed by the two leaders in Hanoi despite their failure to reach an agreement.
Former U.S. Ambassador to Korea Alexander Vershbow said, "It was better to walk away from a bad deal than to have agreed to a one-sided deal."
"But I don't think it was a failure."
He advised the North and the U.S. to hold off on scheduling another summit until more thorough preparation is made, adding, "We can only hope that Hanoi ultimately will lead to a positive outcome."
Kathleen Stephens, another former U.S. ambassador to Korea and now director of the Washington-based Korea Economic Institute, said, "What you really want is a good enough deal."
She predicted "a slow process" and recommended "a return to a little bit more traditional diplomacy" with "a little bit more preparation."
Former South Korean Foreign Minister Yoon Young-kwan expressed optimism over denuclearization talks between Washington and Pyeongyang.
Now professor emeritus at Seoul National University, he said, "North Korea for the first time made it clear that they are ready to dismantle some portion, if not all, of their nuclear program in return for some portion of lifting of economic sanctions."
He highlighted U.S. Special Representative for North Korea Stephen Biegun's proposal of "simultaneous action-for-action approach" for the North's step-by-step and verifiable denuclearization measures.
"This makes me more optimistic about future negotiations," Yoon added.
"Finally the Hanoi meeting might have made (North Korean leader) Kim (Jong Un) recognize the political reality," he said. "Probably he might have learned a lesson that without committing to complete denuclearization, CVID (complete, verifiable and irreversible dismantlement), it would be very difficult for him to get economic sanctions lifted."
The North Korean economy's precarious state might have made Kim "reformulate" his position toward the U.S., Yoon said, adding, "He might have learned a lesson (that) there is (little time left)."
Joseph DeTrani, former U.S. special envoy for the six-party talks on the North's nuclear program, said, "We are at an important inflection point right now."
He hailed as "confidence-building measures" recent developments on the Korean Peninsula such as the downsizing of joint military drills between Seoul and Washington and Pyeongyang's suspension of nuclear and missile tests.