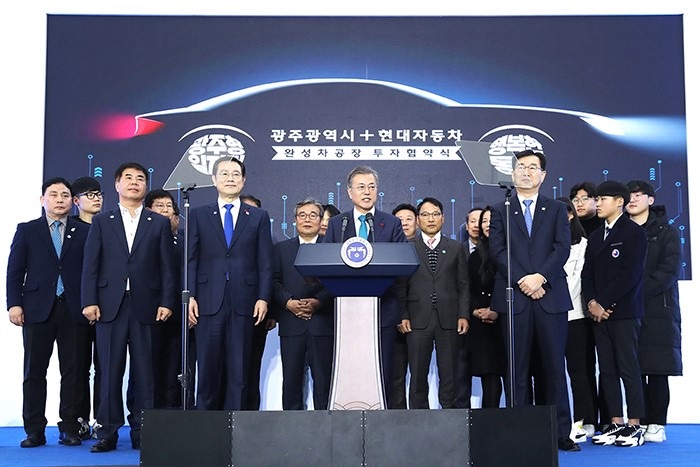 By Kim Minji and Kim Young Shin 
The Gwangju job project, considered a win-win proposition for both labor and management, is expected to serve as an economy-stimulating benchmark by other provincial cities after the Gwangju municipal government and Hyundai Motor Company signed a formal deal on the project on Jan. 31.
Gunsan, Jeollabuk-do Province, which is economically struggling due to the suspended operations of a Hyundai Heavy Industries shipyard and shutdown of GM Korea's plant, could be next to pursue such a project. The city is considering reopening the automotive factory through a consortium with GM and other electric carmakers.
Gunsan authorities are considering asking Hyundai Heavy to reopen its closed shipyard there by having the company assign ship blocks using its partner companies based in the city.
To pursue its own version of the Gwangju job project, the Gunsan municipal government has established a joint council comprising labor, management, civilians and the central government.
The city's Job Creation Division said, "The council is trying to produce quality jobs through collaboration."
Another city showing keen interest in the Gwangju job project is Gumi, Gyeongsangbuk-do Province. With its national industrial complex mired in a prolonged business slump, Gumi is considering which industry to use in its project from choices such as semiconductors and batteries.
In a news briefing on Feb. 8, Senior Presidential Secretary for Job Creation Jung Tae-ho said cities such as Gunsan and Gumi have shown keen interest in the Gwangju job project as well as anticipation of the project's second phase.
The key to the project is a compromise between labor and management. Companies can create more jobs by halving worker salaries, and the loss in pay is offset by welfare services such as housing, education and medical services provided by the central government and regional authorities.
Many provincial governments are trying to benchmark the project, which is considered a breakthrough solution to revive stagnant regional economies.