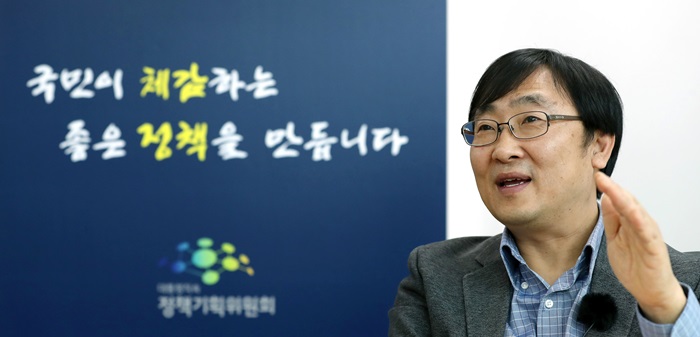 Marking his third year in office, President Moon Jae-in has been driving his vision of building an innovative, inclusive state. Korea.net will further explore his administration's goals of creating an inclusive state and achieving inclusive growth and their significance as goals of the times through interviews with influential figures from both Korea and overseas, including Jung Hae Gu, chairman of the Presidential Commission on Policy Planning; Martin Durand, director of statistics and chief statistician of the Organization for Economic Cooperation and Development (OECD); and Cho Young-cheol, professor of economics at Korea University.
By Kim Young Deok and Yoon Sojung
Photos = Jeon Han
Video = Kim Sunjoo, Choi Taesoon 
Seoul | Jan. 31, 2019
The office of the Presidential Commission on Policy Planning is bustling with staff coming out of meeting rooms.
Employees there have been especially busy since early this year to implement the initiative Future Vision 2040, a mid- to long-term strategy to achieve the government's vision of building an inclusive nation.
Jung Dong-il, the commission's head of national policy, has an office filled with stacked documents on such strategies. While outlining the 2040 plan, which is based on the philosophy of an inclusive nation, he has focused on plans to implement the vision within the first half of this year.
"Our goal (by 2040) is to make Korea a country where everyone has equal opportunity without having to worry about livelihood," he said.
Citing social polarization and the low birth rate among the problems Korean society faces, Jung said a long-term vision and strategies are needed to tackle these issues.
The following are excerpts from Korea.net's interview with Jung on Jan. 31 at his office in the Changseong-dong Annex of the Government Complex-Seoul.
– The Presidential Commission on Policy Planning has designated Future Vision 2040 as its annual plan for 2019. What is it? 
Korean society needs to resolve issues over the short term or a longer period. We thus devised Future Vision 2040 to tackle problems that can affect the country over the next 20-30 years.
– On what basis did you come up with the strategies to achieve the administration's goal of an inclusive nation?
Economic and social issues such as the wealth gap or the low birth rate cannot be solved by several policies. Instead they require a fundamental transformation of the nation's social system. While carrying out short-term policies for inclusiveness is important, we would rather work toward ultimately changing Korean society over the long term.
– A huge volume of data is apparently needed to better prepare the country over the next 20 years.
This gives me a headache (laughs). We collect case studies from abroad and review them.
We've noticed many and unimaginable changes occurring around the globe. Low birth rates, the rapid decline in the working age population, the Fourth Industrial Revolution and many other shifts are remarkably changing society. Other countries are also preparing for the future using mid- to long-term strategies.
– What countries have you studied to come up with Future Vision 2040?
Germany has set up strategic initiatives such as Industry 4.0, Labor 4.0 and Education 4.0. Japan has Society 5.0 and China the so-called Chinese Dream (中國夢) campaign.
While we study these cases, it's hard to say we benchmark them. This is because such strategies have been set up by considering each country's unique background, strengths and social issues. For instance, Germany came up with its Industry 4.0 initiative backed by its strength as a manufacturing powerhouse.
– So what is Korea's main strength?
Our strength lies in human resources. Focusing on that is the starting point for us to look toward the next 20 years, in my view.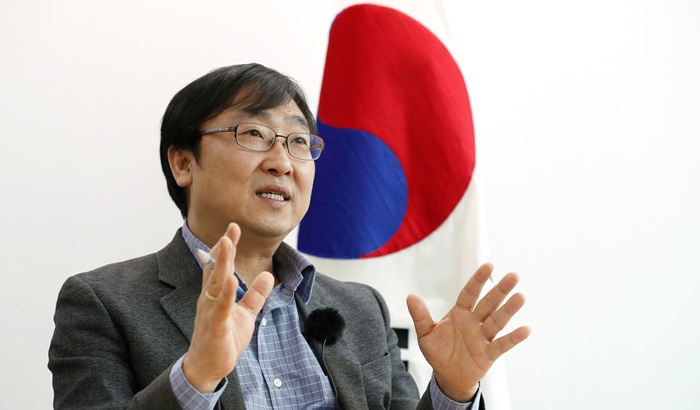 – If the focus is on human resources, will the 2040 plan apply to non-Koreans and foreign residents of Korea such as the children of multicultural families, naturalized Koreans and immigrants? 
Inclusiveness isn't just about embracing others but is also designed to combine the differences of others so that we can go higher together. The U.K., the Netherlands and the U.S. are benchmarks of countries achieving development through embracing cultural differences. I believe that accepting cultural differences can also emerge as a resource for Korea's future growth. I also assume this principle will be included as a core part of the 2040 vision.
– You seem to stress inclusiveness only within Korea. Can it be applied to outside of the country?
The foreign policy of the incumbent administration also emphasizes the concept of inclusiveness. President Moon Jae-in once told government officials, "We need to work hard to pursue win-win diplomacy rather than just concentrating on gaining more advantages on the diplomatic stage."
Something we've been working on is the New Southern Policy of the Moon administration, a policy that stresses the value of peace from economic and political perspectives. I reckon that the Northeast Asian Railway Community also reflects the same value. As the 2040 initiative requires the participation of economic or military powers such as the U.S., China and Russia, I believe it'll greatly contribute to world peace.
– How do you think Korea will be like in 2040? 
That's a tough question (laughs). If I have to answer in one sentence, I'd say Korea will be a nation where everyone can be better off together, an inclusive and innovative country where all can prosper, and a country where everyone can have the opportunity to do whatever they want without having to worry about livelihood.
One more thing I'd like to add is that I hope Korea becomes a country to which people want to immigrate.