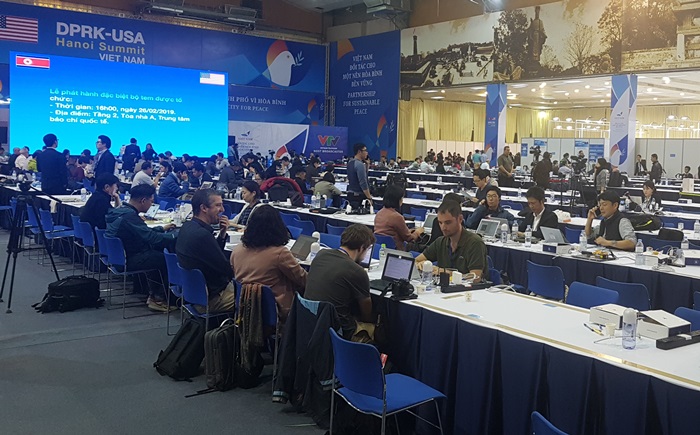 By Korea.net Special Reporting Team
Hanoi | Feb. 27, 2019
The International Media Center (IMC) for the second summit between North Korea and the U.S. was officially opened on Feb. 26 at the Vietnam-Soviet Friendship Labor Cultural Palace in downtown Hanoi, Vietnam.
With the summit just a day away, the IMC was crowded from morning with over 3,000 domestic and foreign journalists. Most media representatives there seemed interested in the issues of denuclearization of the Korean Peninsula and the prospect of a formal declaration on the end of the Korean War.
Nguyen Thi Bich Van, a journalist for the Vietnamese daily Bao Suc Khoe & Doi Song, said, "I hope that the denuclearization issue can be completely resolved."
Kenichi Asano, a professor at Doshisha University of Japan and former reporter for Kyodo News, said he visited Hanoi out of personal interest in North Korea-U.S. issues. "There is high attention over whether the two leaders will declare a formal end to war on the Korean Peninsula," he added.
The (South) Korea Press Foundation set up a separate Korea Press Center (KPC) within the IMC, with a foundation source saying this was because the summit carries huge meaning for South Korea.
About 600 South Korean and 187 foreign journalists from countries like the U.S, Japan and China registered with the 270-seat KPC, which had rooms for interviews, recording, interpretation and audio. Also there were materials on the summit including an English-language book of President Moon Jae-in's achievements and a newsletter both published by Korean Culture and Information Service.
The KPC on Feb. 26 held a forum on the North Korea-U.S. summit and peace on the Korean Peninsula. Another was scheduled on Feb. 27 at 2:30 p.m. on the evaluation of and prospects for the summit, with experts on diplomacy and national security from Korea and abroad, and the next day will have a third forum on assessments of the summit and what tasks could follow.
A talk between Kim Joon-hyung, a professor of international studies at South Korea's Handong Global University, and Daniel Davis, senior researcher of the U.S.-based Defense Priority Foundation, will be broadcast live on Feb. 27 by Arirang TV, Korea.net (<ahref="www.korea.net" target="_blank">www.korea.net) and Korea.net's Facebook page (<ahref="https: www.facebook.com="" koreaclickers"="" target="_blank">https://www.facebook.com/KoreaClickers).
</ahref="https:></ahref="www.korea.net">
[email protected]