Korea and five African countries have shared their knowledge and experiences of vocational education and related policies.
The Ministry of Education extended its invitation to ten experts in vocational education from Botswana, the Democratic Republic of the Congo, Malawi, Namibia and Zambia. The invitational training program is designed to share vocational education policies between Korea and African nations, and to boost policy development capabilities, and it ran from Aug. 1 to 30 this year.
The program is part of UNESCO's "Better Education for Africa's Rise" (BEAR) program, supported by the Korean education ministry. Korea has been helping to run the project for five years now, since 2011.
Program participants visited vocational education institutions, like so-called meister high schools, and the Jeollabukdo Office of Education, and they attended lectures from experts in specialized education sectors. Many of them showed strong interest in improving the quality of vocational education, backed by academic-industry cooperation. They also took a high interest in systematic vocational education programs and related Korean educational policies.
Program participants presented vocational education policies from their home countries and engaged in discussions with their colleagues. They shared their opinions on various issues, including how to connect vocational education policies to national development strategies, how to establish vocational education and training institutes, and how to develop vocational education curriculums by sector and the development of textbooks. They presented various policy measures for vocational education and discussed future directions of vocational education policies.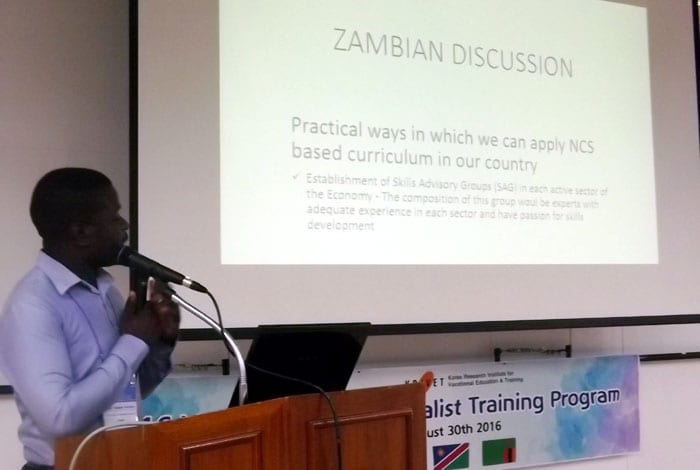 Emmanuel Madilamba Yamba-Yamba from Congo said, "I guess the strength of Korean vocational education can be found in its low-cost and highly efficient model." The general inspector from Congo's Ministry of Technical and Professional Education said, "Korean vocational education is highly practical, so we can connect the model to Congo's own vocational education fields at a low cost."
Zambian participant Kenneth Sichinga said, "I was deeply moved by the meister high schools.
"We will benchmark the meister high school system at two vocational education test-operation schools in Zambia," said Sichinga, who serves as a systems development manager at Zambia's Technical Education, Vocational and Entrepreneurship Training Authority.
Professor Liz M. Saka from the Natural Resources College in Malawi said, "I hope Korea and Malawi can continue to have mutual exchanges so that Malawi can introduce the educational and practical curriculums for specialized education, and a cooperative structure between academia and industries."
Kim Young-gon, director general of the education ministry, said, "Since the BEAR program started, other African countries have asked us for cooperation. So we're planning to add another five African countries — Ethiopia, Kenya, Madagascar, Tanzania and Uganda — to the program as we move forward for the next five years from 2016."
By Yoon Sojung
Korea.net Staff Writer
Photos: Ministry of Education
[email protected]