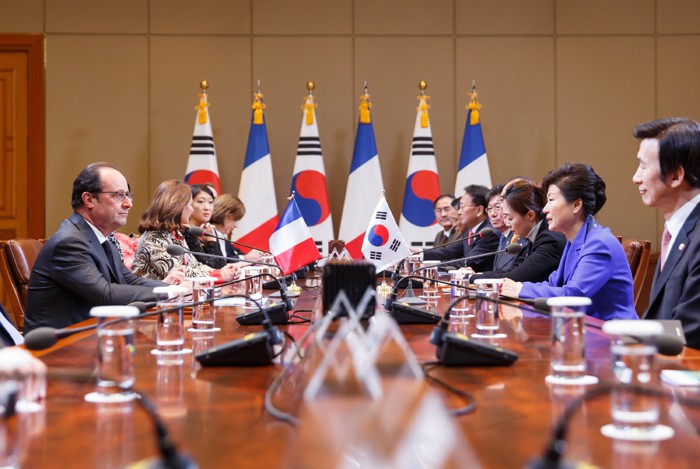 The leaders of Korea and France have mapped an action plan to strengthen bilateral cooperation as comprehensive partners that will cover a wide range of areas.
President Park Geun-hye and her French counterpart President François Hollande held a summit at Cheong Wa Dae on Nov. 4 and adopted the so-called "Action Plan for a 21st Century Strengthened Comprehensive Partnership," which covers bilateral cooperation across 11 sectors.
Under the action plan, the two countries will work together to deepen political dialogue and will enhance and diversify economic ties. They also agreed to strengthen cooperation on industries, new technologies, research, education, national defense and policies toward the North Korean nuclear weapons threat and exchanges between students and between universities.
In particular, the agreement stipulates joint efforts on projects aimed at supporting startups in both countries, one of which is the establishment of a French Tech Hub in Seoul, a French body in charge of providing support for startups.
The two sides agreed to work together on accelerating interchanges between students from each country by recognizing each other's higher-education academic credentials and degrees. France has also agreed to include the Korean language as one of its official second foreign languages in its national high school curriculum starting in 2017.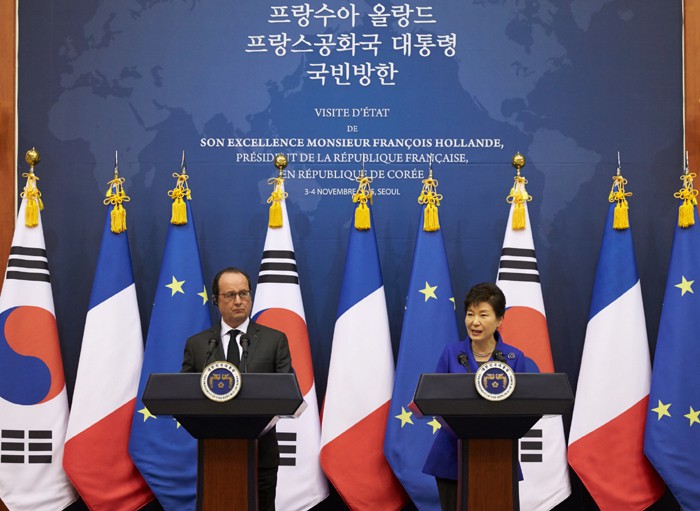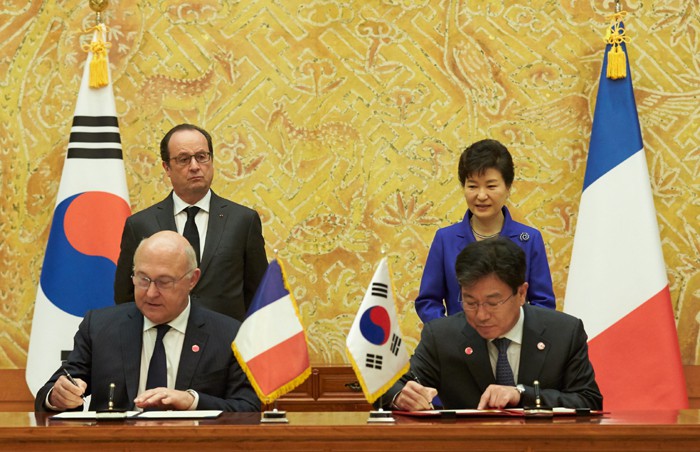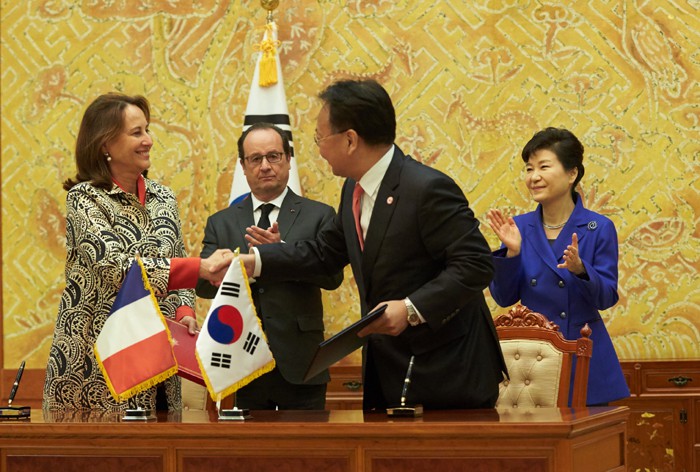 President Park emphasized that, "This action plan is significant in that it will bring a variety of benefits whose effects the public will really experience. With these policies, it will make it easier for youth from both Korea and France to land jobs or to get an opportunity to study in the other country."
On top of that, the two sides signed a memorandum of understanding (MOU) covering the strengthening of cooperation on enterprise-level exchanges, aviation, space, transportation, and arts and performances.
Regarding the arts and performances, President Park stated that, "Korea will focus more on making joint productions with France, such as movies, animated films and performances, and also will enhance bilateral cooperation across the field."
In response, the French leader called Korea "a crucial partner for our country" and said that, "Historically, the two countries have made exchanges on many occasions over the past years, particularly across economic areas. Bilateral ties are stronger than ever, and technical cooperation in particular plays a pivotal role in our partnership."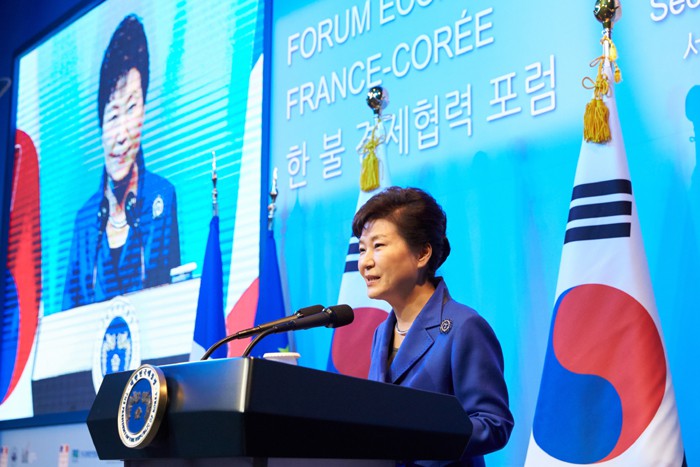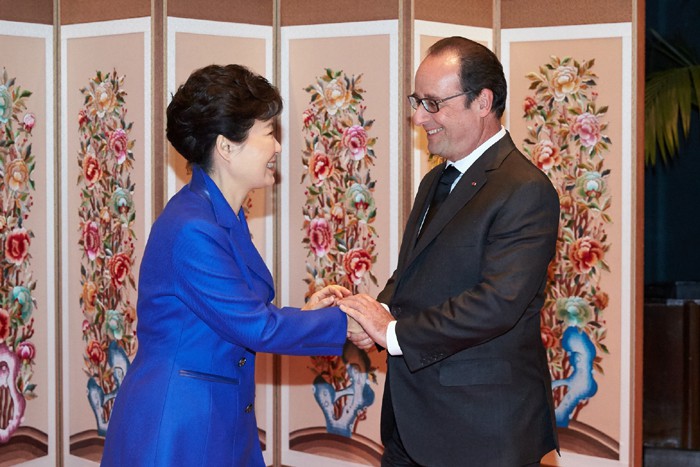 Prior to the summit, the French leader attended the opening of the Korea-France Economic Cooperation & Higher Education Forum, an occasion that marked the 130th anniversary of the establishment of diplomatic ties between Seoul and Paris.
"Our two nations are more than just trade partners," said the French president. "We must be true partners, and especially partners in matters of industry, technology and education," he added.
Mentioning the new kind of sweet bun called a "copain," a pastry that's marketed by a Korean bakery at its French outlets that includes a red-bean filling and which has since captivated many French diners, President Park said that, "'Copain' means family-like friends who share a loaf of bread, and like such friends, I hope our two nations will march together toward a better future."
She concluded by saying that, "Hopefully, our two countries will see more dialogue and exchanges in terms of the economy and education."
By Sohn JiAe
Korea.net Staff Writer
Photos: Cheong Wa Dae
[email protected]