19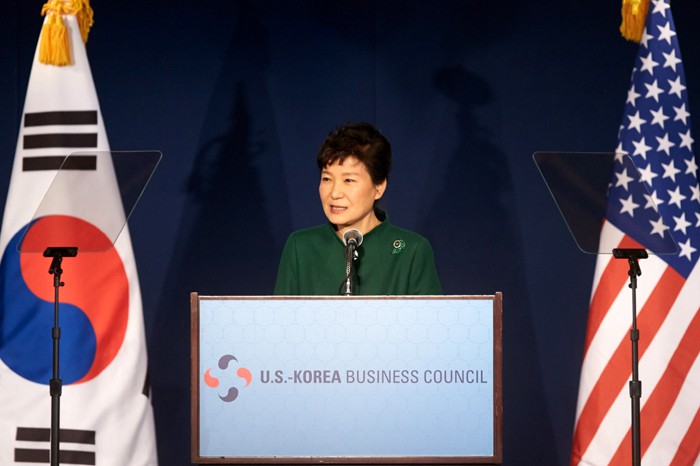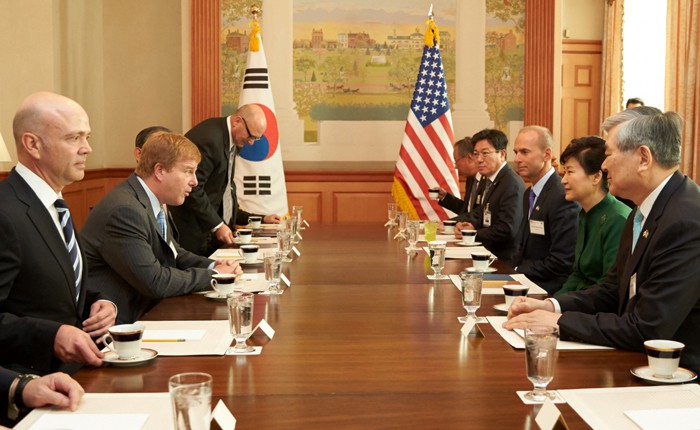 Korea and the U.S. have agreed to open a "New Frontier" in their alliance by cooperating on space, health security and new energy industries.
The two countries signed a memorandum of understanding (MOU) covering a total of 24 items, including the development of medical devices, cooperation on smart energy grids, research into new energy sources and, finally, environmental satellites.
The national health institutes of the two countries also agreed to jointly develop a MERS vaccine and to expand funds aimed at effectively responding to worsening climate change, such as the U.N. Green Climate Fund (GCF).
The two sides will strengthen cooperation across the aerospace field, too. The two nations decided to work together to expedite the signing of a space cooperation agreement. As part of the effort, the National Institute of Environmental Research (NIER) struck an MOU with the U.S.' National Aeronautics and Space Administration (NASA) on joint space research.
The two nations also agreed to help more Korean small and mid-sized companies expand their business in the U.S. by cooperating on procurement and support for startups.
"Our nation [Korea] has free trade deals with the world's superpowers, such as the European Union and China, and the nation's entry into the U.S.-led Trans-Pacific Partnership (TPP) deal would for sure bring more benefits to businesses from Korea and the U.S. alike," said President Park Geun-hye during the 27th Korea-U.S. Business Council held in Washington, D.C., during her official visit to the U.S.
The joint statement issued following the summit between President Park and President Barack Obama on Oct. 17 also welcomed Korea's interest in the TPP. Taking as an example the hoehonrye (회혼례, 回婚禮) celebration for a 60th wedding anniversary, President Park said that, "The Korea-U.S. alliance marks its 60th year this year and it's time for the two nations to launch a new era and to take the alliance to a new level. We should make a new blueprint for stronger economic cooperation, too."
The president put forth three steps that the two nations could take in the future in order to further strengthen economic cooperation: enhance the bilateral free-trade partnership; foster a congenial environment for more vigorous mutual investment; and, lastly, boost the bilateral partnership in the creative industries.
By Wi Tack-whan, Sohn JiAe
Korea.net Staff Writers
Photos: Cheong Wa Dae
[email protected]