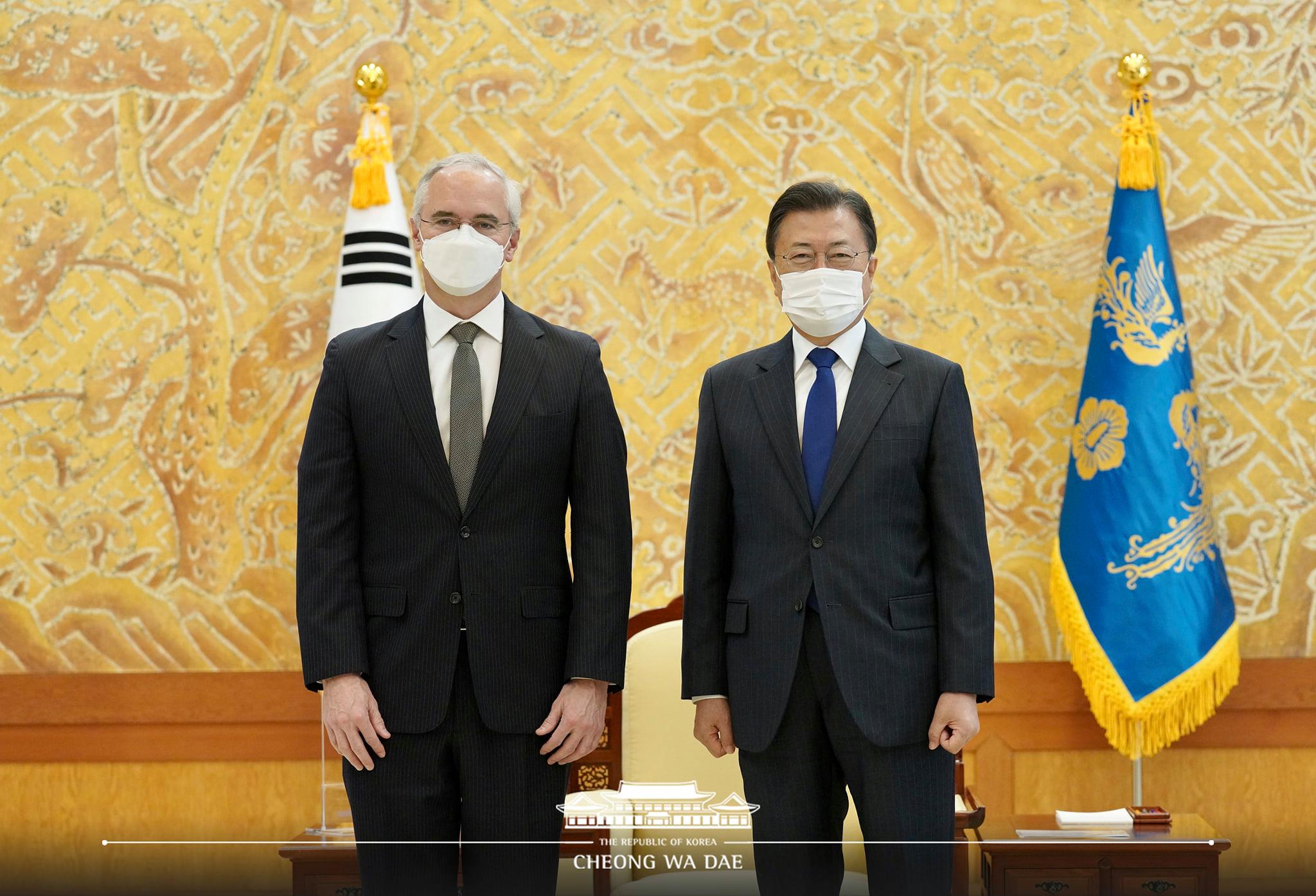 By Xu Aiying and Kim HayeonPresident Moon Jae-in on Nov. 16 told Richard Hatchett, CEO of the Norway-based Coalition for Epidemic Preparedness Innovations (CEPI), in a meeting at Cheong Wa Dae, "Our businesses have been contributing by contract manufacturing various vaccines. Not content with these contributions, we've made it a national goal to develop and produce vaccines with our own technologies at all costs this time around."
"In particular, given the results of recent phase 2 clinical trials that have been released so far, SK Bioscience's vaccine development – which CEPI and the Korean Government have been jointly supporting seems to be very successful, and we have high expectations."
In response, Hatchett said his organization had seen many results in the development and supply of vaccines against COVID-19 while working with Korean companies such as SK Bioscience and Green Cross Corp.
Many excellent companies in Korea are capable of mass-producing vaccines, including ones against the coronavirus, he said, thus the combination of CEPI's support capacity for vaccine development and Korea's production ability will allow swift recovery from infectious diseases.
The CEO added that Korea has set a global standard of a rapid and systematic response to COVID-19.
President Moon also asked for CEPI's interest in and support for Korea's bid to attract a hub for training a biomanufacturing workforce under the World Health Organization to help foster vaccine experts in developing countries.
Hatchett replied by saying he was well aware of Korea's bid to become a global vaccine hub. The country has all the conditions to become a world vaccine leader, he added, with its excellent production capacity, outstanding personnel in science and technology, deep understanding of infectious diseases and active government support.
Based in Norway, CEPI is an international health organization launched in 2017 to accelerate the development and stockpiling of vaccines against emerging infectious diseases. Korea joined the entity in November last year.