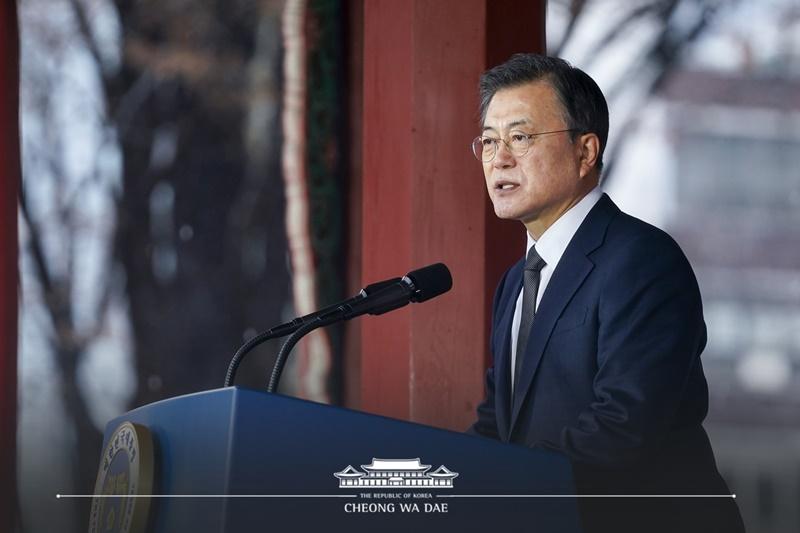 By Kim Minji
Photos = Cheong Wa Dae's Facebook page
President Moon Jae-in on March 1 said he is "always ready" for bilateral dialogue with Japan.
At a ceremony for the 102nd March First Independence Movement Day at Seoul's Tapgol Park, he said, "The Korean government is always ready to sit down and have talks with the Japanese government."
"I am confident that if we put our heads together in the spirit of trying to understand each other's perspectives, we will also be able to wisely resolve issues of the past."
The president added, "The only obstacle we have to overcome is that, sometimes, issues of the past cannot be separated from those of the future but are intermingled with each other."
"There was an unfortunate chapter in history between Japan and Korea. Today is the day to remember the most dramatic moment in that history. We cannot forget the history," he said. "Now, however, one hundred years later, Korea and Japan have become very important neighbors to each other in all areas of the economy, culture and people-to-people exchanges."
"We have to concentrate more energy on future-oriented development while resolving issues of the past separately," he added. "The Korean Government will always pursue wise solutions based on a victim-centered approach."
Turning to sports, the chief executive said, "The Tokyo Summer Olympic Games scheduled for this year may serve as an opportunity for dialogue between Korea and Japan, South and North Korea, North Korea and Japan, and North Korea and the United States," pledging cooperation with Japan for a successful Olympics.
He also highlighted Korea's accomplishments over the past year including the country's response to the pandemic, saying, "Through participation in this year's G7 Summit, we will set up a clear milestone to mark the launch of a new vessel, 'the Republic of Korea – Pacesetter,' building upon all of our political, economic, social and cultural achievements."
"Korea will become a country that spearheads the international order with the spirit of humanitarianism, multilateralism, mutual benefit and inclusiveness."