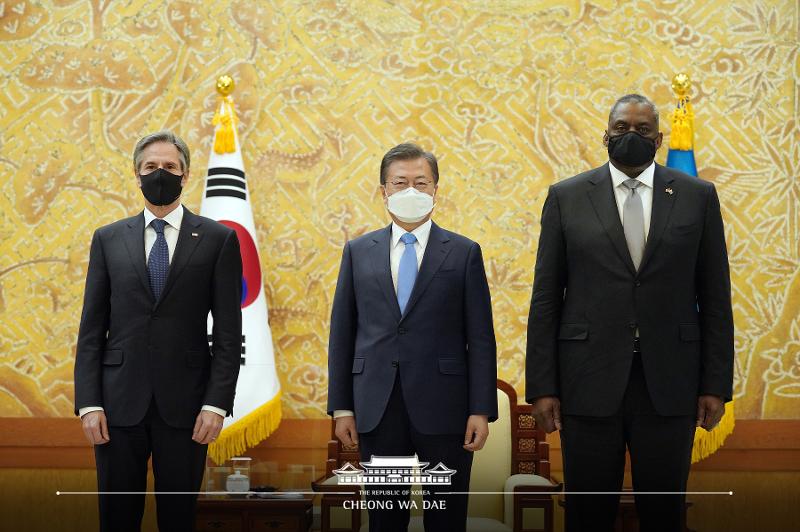 By Xu Aiying and Lee Jihae
President Moon Jae-in on March 18 hosted a meeting with visiting U.S. Secretary of State Antony Blinken and Secretary of Defense Lloyd Austin, saying, "We will continue to coordinate closely with no daylight between us for complete denuclearization of and establishing lasting peace on the Korean Peninsula."
In the talks at Cheong Wa Dae, the president said, "As a 70-year partner to the United States this year, core values and basic ideals such as democracy and human rights, Korea is ready to work with the U.S. to meet common challenges."
The chief executive said the decision to make a visit to Korea a priority for the two secretaries reflects U.S. President Joe Biden's strong will toward the Korea-U.S. alliance, adding that Seoul considers this an opportunity to strengthen the alliance and improve bilateral relations.
Secretary Blinken said, "This trip, as has been noted, is the first by any member of President Biden's cabinet overseas, and it's no accident that Secretary Austin and I came here."
The diplomat added that President Biden asked that both secretaries reiterate how important the U.S. deems the bilateral alliance and that further growing the alliance is as important as reaffirming it.
Secretary Austin described the U.S. devotion to the bilateral alliance as "like iron" and that the alliance "serves as the linchpin of peace, security, and prosperity on the Korean Peninsula and the Indo-Pacific region."
On relations with Japan, President Moon called such ties "very important" for peace, security and prosperity in Northeast Asia and a strong cornerstone for trilateral cooperation among Korea, the U.S. and Japan.
He pledged to continue striving to restore relations with Tokyo.
The chief executive also said, "Today, a 2+2 ministerial meeting took place for the first time in five years. A Special Measures Agreement was initialed as well," adding, "A solid foundation has been made for the stable development of the ROK (Republic of Korea)-U.S. Alliance at the beginning of the Biden administration."
"I am sure that the people of our two countries would also feel reassured with the reinforcement of our alliance, which has been a linchpin of peace and prosperity of the Korean Peninsula and Northeast Asia."
He added, "Thank you, Secretaries, for all your efforts and contributions, and going forward, I hope we will continue to communicate and work closely with my ministers."
Earlier in the morning, Minister of Foreign Affairs Chung Eui-yong and Minister of National Defense Suh Wook hosted the 2021 Republic of Korea-U.S. Foreign and Defense Ministerial Meeting with Secretaries Blinken and Austin at the Ministry of Foreign Affairs in Seoul.
Both sides adopted a joint statement that "reaffirmed a mutual commitment to the defense of the ROK and to the strengthening of the ROK-U.S. combined defense posture."
"The Ministers and Secretaries emphasized that North Korean nuclear and ballistic missile issues are a priority for the Alliance, and reaffirmed a shared commitment to address and resolve these issues," the statement added.