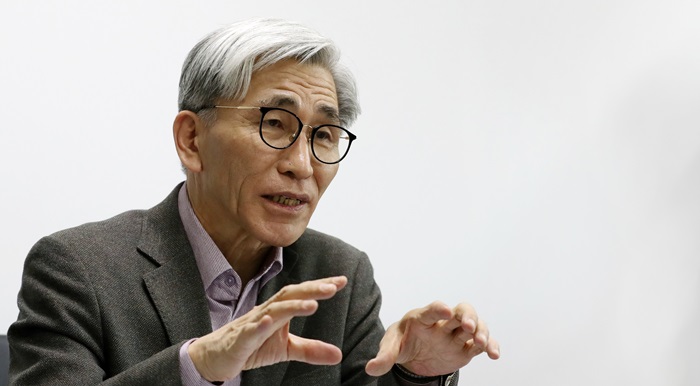 Marking his third year in office, President Moon Jae-in has been driving his vision of building an innovative, inclusive state. Korea.net will further explore his administration's goals of creating an inclusive state and achieving inclusive growth and their significance as goals of the times through interviews with influential figures from both Korea and overseas, including Jung Hae Gu, chairman of the Presidential Commission on Policy Planning; Martin Durand, director of statistics and chief statistician of the Organization for Economic Cooperation and Development (OECD); and Cho Young-cheol, professor of economics at Korea University.
By Kim Young Deok and Lee Hana
Photos = Jeon Han
Video = Kim Sunjoo
Seoul | Nov. 23, 2018
The Macmillan Dictionary's definition of "inclusive" is "deliberately aiming to embrace and involve all types of people." This meaning captures the gist of the term "inclusive nation," a major policy objective of the Moon administration.
President Moon Jae-in last year announced his vision for building an inclusive nation to create a more just society, economy, education system and labor market for all citizens.
The Presidential Commission on Policy Planning (PCPP) carries out measures based on this vision. Founded on Dec. 15, 2017, the PCPP is considered the administration's "think tank."
On Nov. 23 last year, Korea.net sat down with PCPP Chairman Jung Hae Gu at Government Complex-Seoul to discuss how the administration is implementing this vision at the policy level.
"Now is the time to seek the kind of growth that's inclusive for all people, especially those suffering from the side effects of political polarization," he said. "Our goals for building an inclusive nation, based on people-centered governance and sustainable growth, closely match those of the international community."
The following are excerpts from the interview.
– One hundred days have passed since the Moon administration announced its vision for building an "inclusive nation." To many, this term still sounds unfamiliar.
An inclusive nation is one that leaves no one behind and aims to improve quality of life for everyone.
– Please give a few examples of inclusive policy measures.
Child support at the central government level, basic pension and income-led growth are a few examples. Reduction of work hours to improve work-life balance is another.
In a similar vein, there's the OECD's (Organization for Economic Cooperation and Development) work in inclusive growth, the ILO's (International Labor Organization) wage-led growth, the European Union's social investment and the United Nations' sustainable development goals. Thus even from a global standpoint, the desire to build social safety nets while reducing inequality is quite strong.
– Why has the administration turned its attention to inclusiveness?
In the past, growth was based primarily on markets. As a result, the economy thrived but polarization and inequality grew worse. The country's economic level rose but the lives of ordinary people got tougher. Our government took note of this and deemed it necessary to find a better way to grow and leave no one behind to suffer alone.
The same situation can be seen abroad. Since the mid-1970s, neo-liberalism's domination of world markets has resulted in greater inequality. In a global context, nations are striving to bring on board those who never got a fair chance in life to allow everyone to grow together.
– The focus of the inclusive policy appears mainly societal.
The word "inclusive" does have strong social policy implications. The PCPP, however, believes that a society and its economy are complementary, meaning they produce a synergistic effect.
Innovative growth is related to the development of human resources, which is one pillar of social policy. The economic sector has policies aimed at spurring innovation while providing lifelong education opportunities to workers. We must ensure that economic and social policies complement each other and then formulate others that improve quality of life.
– How will the inclusive nation policy improve quality of life?
People are at the core of President Moon's policy objectives. This means that the focus is on improving quality of life rather than stimulating economic growth. Fully implementing such policies will take time. An inclusive nation strives to improve the quality and quantity of work and leisure so that everyone can live their lives with dignity.
The success of an inclusive nation depends on trust. When two sides can look toward the same future with confidence, they can achieve mutual understanding. A conversation built on trust will change the results.
– Does the inclusive nation vision include non-Koreans, like Yemeni refugees on Jeju Island?
This is a dilemma we face. Koreans aren't the most tolerant when it comes to refugees. They remain hesitant to accept them into society. Yet we must work on practicing greater tolerance given the wider global society we live in. This is one of our key tasks.
– What are your own thoughts on building an inclusive nation?
I hope to build a country worthy of being called a country through the inclusive policy approach. Our society underwent a transformation following the candlelight revolution. From this new chapter of our history, President Moon unveiled his plans for our future, one in which we become an inclusive nation. We are now walking through this process. Contrary to other countries where populism is shaking their political roots, Korea, in my opinion, is following a steady course toward change.
– What lies ahead for the inclusive nation plan?
Our vision for building an inclusive nation is an outline at best. That means we could run into obstacles while formulating and enforcing policies. This process will go into full swing from 2019.