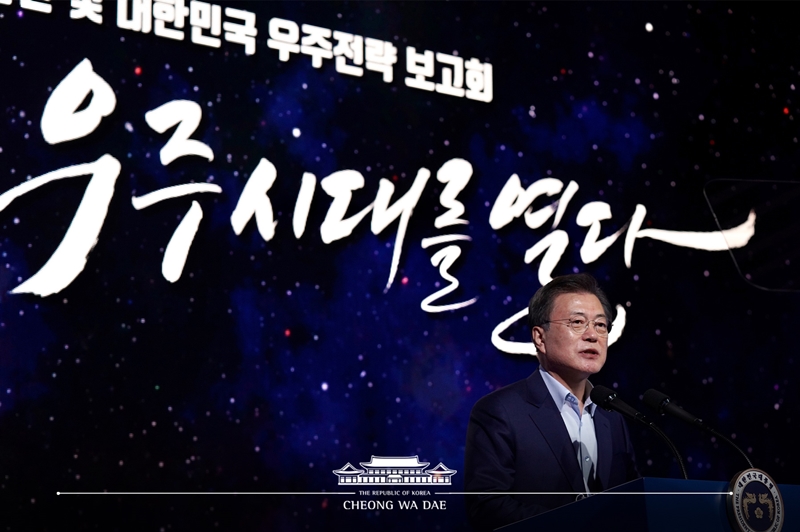 By Park Hye Ri and Lee Jihae
Photos = Cheong Wa Dae Facebook
President Moon Jae-in on March 25 said, "Next year, Korea Pathfinder Lunar Orbiter will be launched, and by 2030, we will achieve our dream of landing on the Moon by using our own launch vehicle."
Watching the comprehensive combustion test of Nuri's first-stage thrust engine at Naro Space Center in Goheung-gun County, Jeollanam-do Province, he said, "We will actively push for challenging space exploration projects that build on the foundation achieved by developing a Korean launch vehicle."
"The technological prowess, experience and confidence that will be gained from exploring the Moon, the first step in space exploration, will provide a solid foundation for space development," he added. "Also regarding Apophis, an asteroid that will pass near Earth in 2029, an exploration plan will be established following feasibility studies."
The first test of the domestically developed rocket Nuri with a mock payload is slated for October. The first-stage thrust engine simulating the launch is considered the "final gateway" before the launch.
"This last test simulating the actual launch of Korea's newest space launch vehicle signifies the completion of its development. All that remains is Nuri's lift-off," the president said.
Nuri is a projectile that can carry a 1.5-ton satellite into a low orbit of 600-800 km around Earth. With its development started in 2010, Nuri is the first rocket to be made exclusively with domestic technology.
President Moon said, "The 2013 lift-off of Korea Space Launch Vehicle-I Naro required assistance from Russia. However, dispelling any sense of having come up short, we are now able to put our own satellite into orbit using our own space launch vehicle from our own territory."
If Nuri's launch is successful, Korea will be the seventh country to launch a satellite using a domestically made rocket after the U.S., Russia, Europe, China, Japan and India.
"We will combine the capabilities of the public and private sectors more closely and definitely leap forward to become one of the world's seven leading space powerhouses," the chief executive said.