A farming village nestled along the slopes of Jirisan Mountain in Cheonghak-dong, Hadong-gun County, Gyeongsangnam-do Province (South Gyeongsang Province), has transformed itself into an information and communications technology-based village.
On July 6, the Ministry of Agriculture, Food and Rural Affairs and KT, a telecommunications provider, jointly launched the "Creative Village," turning the Cheonghak-dong town into a neighborhood armed with ICT and a gigabyte-rated Internet infrastructure.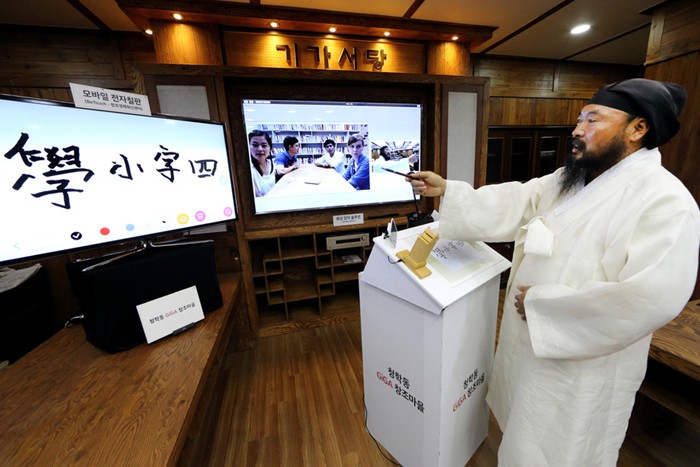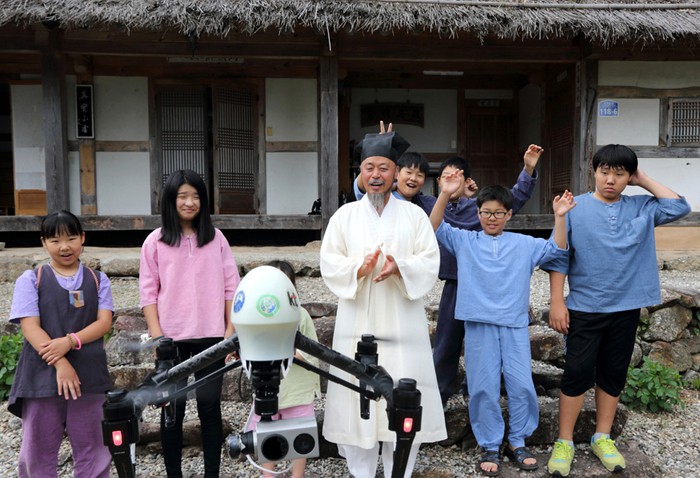 The town's library has been turned into a "Giga Seodang," a school that houses a mobile electronic whiteboard and a video conference room, all running on the town's high-tech infrastructure. The school offers a variety of educational services as well as cultural programs, utilizing its cutting-edge ICT. It also serves as a cross-regional channel between the town and farther outlying areas.
In the video room, students can take a range of lectures offered outside the village elsewhere across the nation. On the flip side, those in other towns can see and hear what's going on in class. The camera sensors set up in front of the teacher trace where his or her pen goes on the mobile electronic whiteboard and sends the teacher's writings directly onto students' devices, showing them what the teacher just wrote.
The technology allows students living in Seoul or even outside of Korea to use their smartphones to learn traditional Korean etiquette and Chinese characters from the traditional Confucian school.
A new app specializing on the village has been rolled out, too. With the app, visitors have access to a wide range of information about the place, from tourist sites and accommodations through to famous restaurants: anywhere that is located within 50 to 70 meters of the village. The app is available in Korean, simplified Chinese and, soon, in English and Japanese, too.
Finally, a drone based on a long term evolution (LTE) system hovers over the village. In case of any emergency, the drone will swiftly and accurately identify the whereabouts of any victims. It also serves to supply relief items quickly when any locals are trapped by a flood, a natural disaster to which the region is particularly vulnerable due to its geographic location.
"The transition of this village into a highly-advanced township will help increase its agricultural competitiveness and income, as well as help transform its living conditions with well-developed services in both education and healthcare. We will continue working to create such 'smart villages' across the nation," said an official from the Ministry of Agriculture, Food and Rural Affairs.
By Sohn JiAe
Korea.net Staff Writer
Photos: the Ministry of Agriculture, Food and Rural Affairs
[email protected]