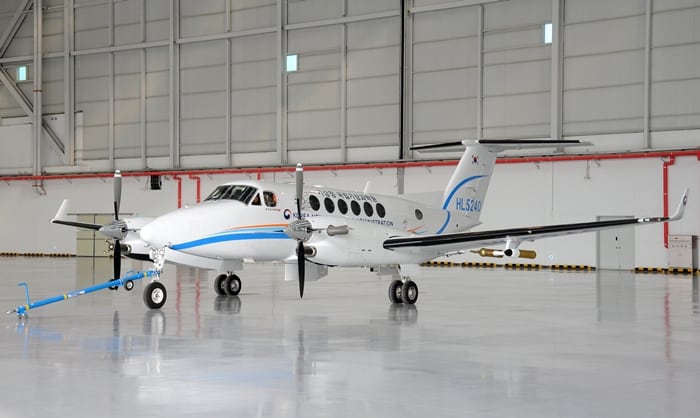 By Kang Gahui and Lee Hana
Photos = Korea Meteorological Administration
A weather plane built to carry out meteorological observations from the skies has been adopted by the Korean government for the first time.
A launch ceremony was held at Gimpo International Airport on Dec. 20.
The plane will begin service in January 2018 and will play a key role in producing weather forecasts during the upcoming PyeongChang 2018 Olympic and Paralympic Winter Games.
The plane is a King Air 350 HW, part of a line of utility aircraft made by Beechcraft, a U.S. company. The plane is 4.37 m high, 14.22 m long, and 17.65 m wide. It can fly for up to six hours, and can reach altitudes of around 32,000 ft. or 10 km.
The plane is equipped with a dropsonde, an expendable weather device designed to be dropped from an aircraft at altitude to measure conditions such as atmospheric pressure, temperature, humidity, wind direction and velocity.
The 25 different types of equipment on the aircraft allow it to measure cloud particles and precipitation, and analyze greenhouse gases.
The head of the Korea Meteorological Administration, Nam Jaecheol, said, "Thanks to the launch of this weather plane, we'll be able to gain a deeper understanding of and reaction capability to meteorological disasters."