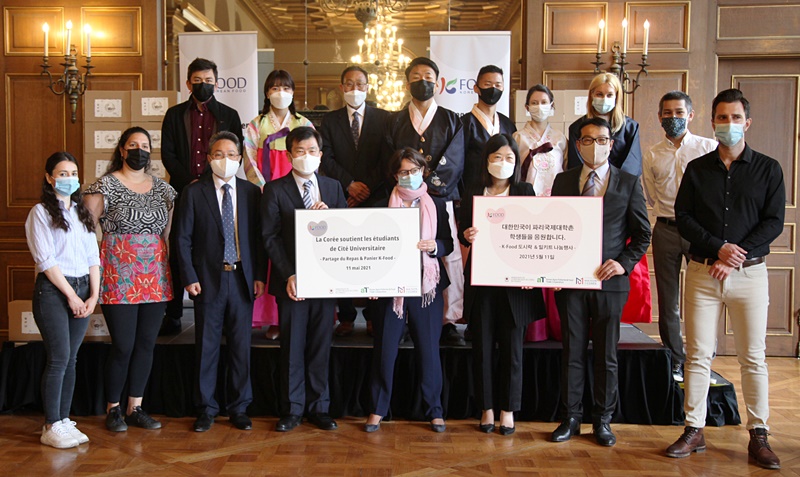 By Jung Joo-ri and Lee Jihae
Photos = Korean Embassy in Paris
The "K-food Sharing Event" was held on May 11 in Paris to provide packed Hansik meals for college students struggling from the prolonged COVID-19 pandemic.
The Korean Embassy in the French capital on May 12 said it provided 2,000 lunch boxes of Korean food in collaboration with Korean Agro-Fisheries and Food Trade Corp. to students from 150 countries at Cite International Universitaire de Paris (CIUP).
Korean Ambassador to France Yoo Dae-jong and CIUP Executive Director Laurence Marion attended the event at the university auditorium and outdoors. Due to COVID-19, the organizers minimized the number of attendees and distributed the meals and kits in order to those who had applied for them online.
"Korea, which received aid from many countries in the past, is now a country that can share," Ambassador Yoo said. "We're glad to share again with youths (international CIUP students) from 150 countries the warm generosity Korea received."
Executive Director Marion said, "Korean food is immensely popular with the international student community in Paris," adding, "The event has received a highly positive response and will offer much encouragement to students struggling from COVID-19."
Founded in 1925, the university has a huge campus with around 40 national halls, parks, cafeterias and gyms and accommodates 12,000 students and researchers from 150 countries. Maison de la Coree (House of Korea) was opened in 2018 and has 250 rooms for lodging as well as a Korean restaurant and grocery store.