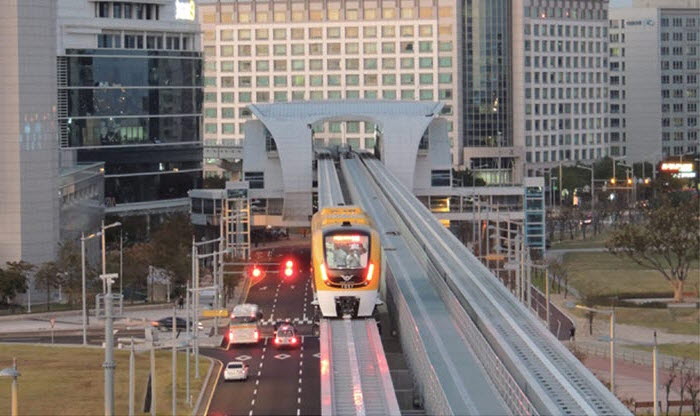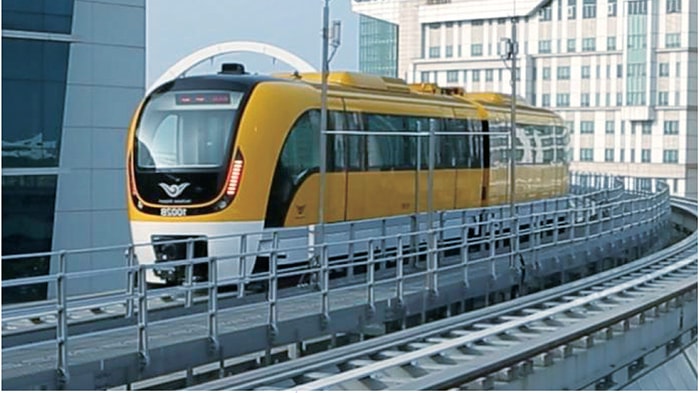 A maglev commuter train travelling between Incheon International Airport and adjoining neighborhoods launched on Feb. 3.
This new urban train runs at a maximum speed of 110 kilometers per hour and passes six stops between the airport and the Yongyu-dong tourist complex, a total of 6.1 kilometers. The train uses magnetic levitation to propel itself and runs 8 millimeters above the guideway with little friction or noise.
It took a total of nine years and four months, including construction and several safety checks, to complete the project, ever since it was undertaken in October 2006. The development and construction of this independently-developed maglev train and rail system was completed through cooperation between solely domestic institutes and companies, including the Korea Institute of Machinery & Materials, the Korea Rail Network Authority and Hyundai Rotem.
Taking this Incheon train is free, as it functions as a shuttle between the airport and neighboring areas. Until the system is considered stabilized, the train will run only every 15 minutes between 9 a.m. and 6 p.m. A temporary change will be made to the train's schedule during the Seollal Lunar New Year's holidays between Feb. 6 and 10, as larger crowds will be using the airport.
More details about the new maglev train's schedule will be available soon at the Incheon International Airport Corporation's website.
By Chang Iou-chung
Korea.net Staff Writer
Photos: Ministry of Land, Infrastructure and Transport
[email protected]