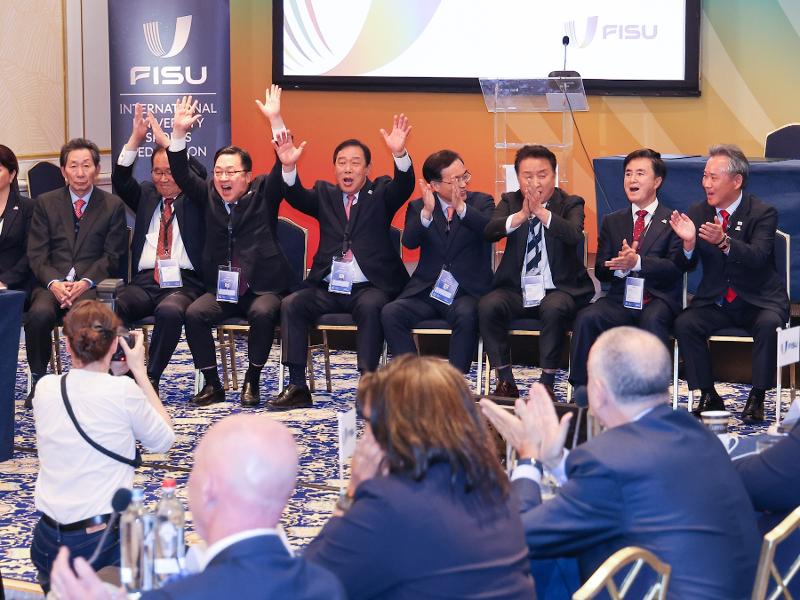 By Yoo Yeon Gyeong
The cities of Daejeon and Sejong and the provinces of Chungcheongnam-do and Chungcheongbuk-do will jointly host the 2027 Summer World University Games.
The International University Sports Federation (FISU) on Nov. 12 confirmed the four regions as the hosts of the tournament at a meeting of the FISU Executive Committee in Brussels, Belgium.
Fourteen of the 22 committee members supported the joint bid by the two cities and two provinces.
Runner-up was the U.S. state of North Carolina, which is renowned for collegiate sports.
The four Chungcheong-do locales will thus host Korea's fourth World University Games after Muju-gun County and Jeonju in Jeollabuk-do Province hosted the 1997 winter tournament and Daegu in 2003 and Gwangju in 2015 each held the summer edition.
In its presentation, the joint bidding committee stressed that its hosting will be low-cost but highly efficient and receive active financial support from the central and local governments.
Through hosting the 2027 event, the four venues are expected to share the related costs and the expected direct and indirect economic generating effect of KRW 2.7 trillion to boost their regional economies. Daejeon will host the opening ceremony and Sejong the closing ceremony.
The biennial tournament is the world's largest international university sports festival and considered one of the two biggest global multi-sports events along with the Olympics. In August 2027, about 10,000 athletes from 150 countries will compete in 18 events including track and field, basketball and taekwondo.
The leaders of local government units in Chungcheong-do said in a statement, "We will thoroughly prepare and closely consult with the central government to successfully host a world-class sporting event."
dusrud21@korea.kr