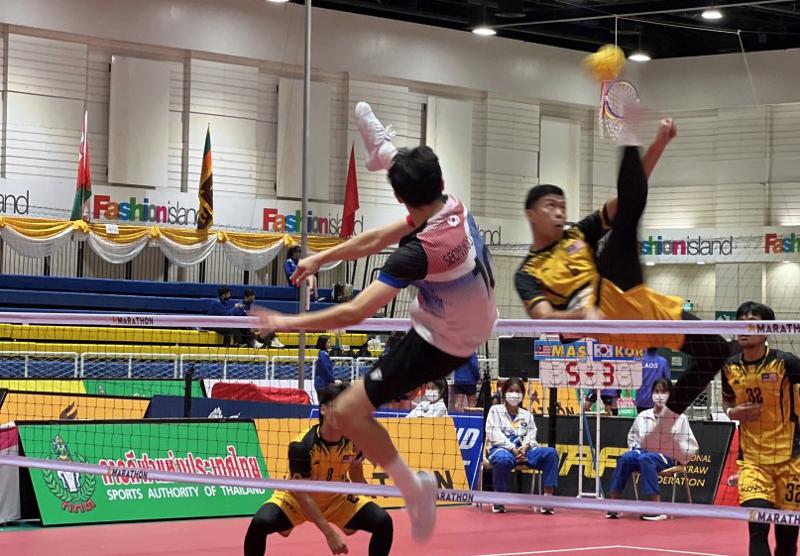 By Yoon Sojung
Daejeon from Nov. 25 will host the 2022 International Sepaktakraw Federation (ISTAF) World Cup.
Approximately 300 people comprising athletes and staff from 13 countries including Korea, the sport's birthplace Thailand, Malaysia, U.S. and Germany will compete in the tournament from Nov. 25-29 at Daejeon Hanbat Sports Complex.
The competition's three events are regu for three-member teams, quad for those with four and mixed quad. Group play and a knockout stage will precede the final.
Adopted with wushu and kabaddi as an official event of the Asian Games, sepaktakraw allows players to use any part of the body except their hands to hit the ball. Featuring speed, aggressive offense and physical agility, the sport is highly popular in Southeast Asia including Malaysia and Thailand.
The first ISTAF World Cup was held in Kuala Lumpur, Malaysia, in 2011 and the second in Hyderabad, India, in 2017. Thailand won both tournaments.
In July, Korea won the women's regu and men's quad at the 35th King's Cup Sepaktakraw World Championship at the shopping mall Fashion Island in Bangkok, Thailand.
The Daejeon World Cup will be livestreamed on the event's official YouTube account (https://www.youtube.com/watch?v=Kblp2ZegVkM) and Naver TV. Admission to the sports complex to see the games live is also free.
arete@korea.kr