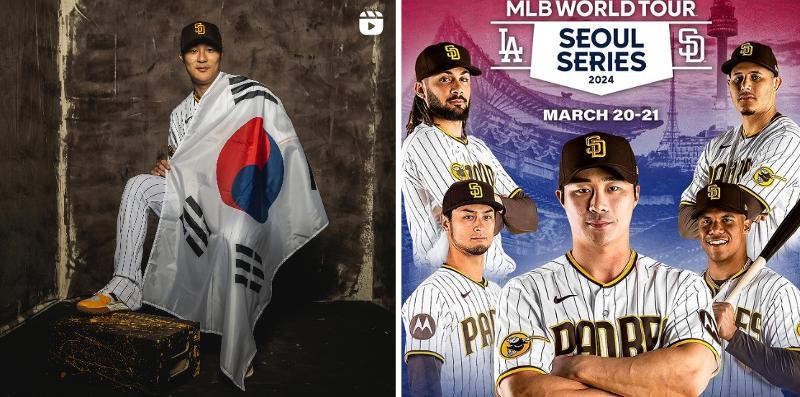 By Yoon Sojung

Major League Baseball (MLB) of the U.S. in a first will host next year two regular-season games in Korea.

The MLB Players Association and the league on July 12 said the Los Angeles Dodgers and San Diego Padres from March 20-21 will play their opening games of the 2024 season in Seoul.
In a news release, MLB.com said both teams will open the 2024 regular season with two games in Seoul, adding, "The two-game set will be a home-and home series and the contests will represent the first ever regular season games in Korea."

The Dodgers are famous in Korea as the team where Koreans played like pitchers Park Chan-ho, Ryu Hyun-jin and Seo Jae-weong and first baseman Choi Hee-seop. Park also played for the Padres, whose second baseman is Kim Ha-seong.

Dubbed the "Seoul Series," the two games will be part of the MLB World Tour as the ninth season opener held outside of the U.S. and Canada in league history and the third in Asia after those in Japan and Australia.
In 1999, MLB held its first season opener abroad in Monterrey, Mexico, followed by five in Tokyo, Japan, in 2000, 2004, 2008, 2012 and 2019. Its first game of the 2001 season was in San Juan, Puerto Rico, and Sydney, Australia, was the site of the 2014 opener.
The Padres played in the historic 1999 game against the Colorado Rockies. Next year, the Dodgers will play their second season opener outside the U.S. in 10 years after facing the Arizona Diamondbacks in Sydney in 2014.

Dodgers President and CEO Stan Kasten stressed the meaning of the Seoul Series, saying in the news release, "I know our players are thrilled to put their talents on display in a country so rich with baseball tradition and talent, including former Dodgers Chan Ho Park, Hee-Seop Choi and Hyun-Jin Ryu."

On the same day, the Padres also uploaded on its social media a video interview of Kim draped in the Korean national flag Taegeukgi and a poster promoting next year's Seoul Series with the second baseman at the center.

"When I joined the Padres, I never would have imagined that I would have the opportunity to represent the San Diego Padres and Major League Baseball in my home country," he said in the video. "I cannot express in words how happy I am to be able to play in Korea in a San Diego uniform."
Along with the Seoul Series, the MLB Secretariat announced the schedule of other games abroad on its world tour next year. The Boston Red Sox play the Tampa Bay Devil Rays from March 9-10 in the preseason in the Dominican Republic; the Houston Astros and Rockies clash from April 27-28 in Mexico City; and the New York Mets face the Philadelphia Phillies from June 8-9 in London.
arete@korea.kr