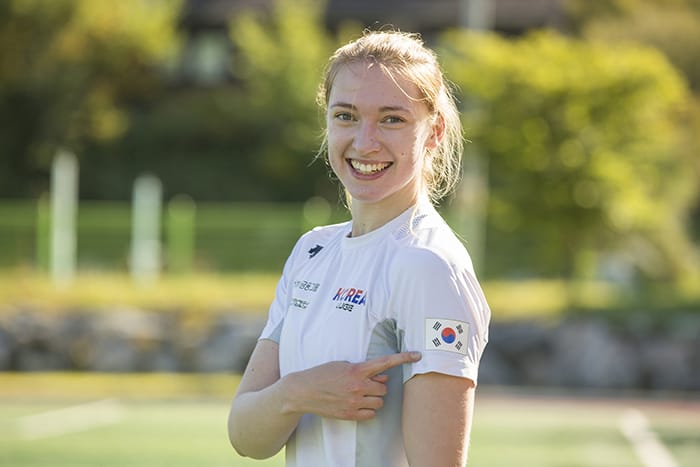 By Min Yea-Ji and Lee Hana
Photos = Kim Sunjoo
Pyeongchang | Sept. 20, 2017
Just as Korea dominates archery, Germany is unrivalled in the high-speed sport of luge.
Since the addition of luge to the Winter Olympics, Germany has won more than half of all the medals awarded in the event. Undeniably, the Germans are on top of the world when it comes to this dangerously rapid winter sport.
Luger Aileen Frisch was once a rising star in her native Germany, but she will compete at the upcoming PyeongChang 2018 Olympic and Paralympic Winter Games bearing the Korean Taegeuk flag on her sleeve.
This is because Frisch, who won a bronze medal at the 2013 Luge World Cup in Königssee, Germany, became a Korean citizen in December 2016.
When Korea.net sat down with Frisch on Sept. 20 at a training facility in Pyeongchang, Gangwon-do Province, the luge star was all smiles, despite her intensive Olympic training regimen.
Frisch, or Ileeni (일린이) as she's fondly called by her teammates, told us of her journey to Korea and of her new life as a member of Team Korea.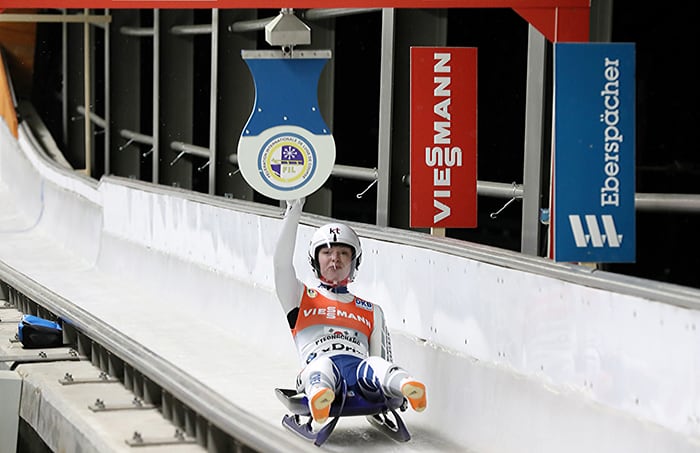 – How did you become a Korean citizen?
I was offered citizenship on two occasions by Steffen Sartor, coach of the Korean national luge team.
The first time I received the offer, it was right after I announced my retirement. I had completely lost interest in the sport at that time and was mentally exhausted, so I declined the offer.
When Coach Sartor reached out to me a second time, I was in a different state of mind. I missed the sport. It was a longing for luge itself, removed from any attachment to my old team. I realized just how much I loved luge and wanted to give it another go.
– Didn't Korea feel completely foreign to you at first?
To be honest, at first it was difficult to imagine living as a member of the national team in a foreign country. Luckily, I have a sister who's an avid K-pop fan and I had been exposed to Korean food and TV. I began to learn more about Korean history and heritage. The more I learned, the more my fondness grew. Moving to Korea and starting a new life here felt like a real possibility.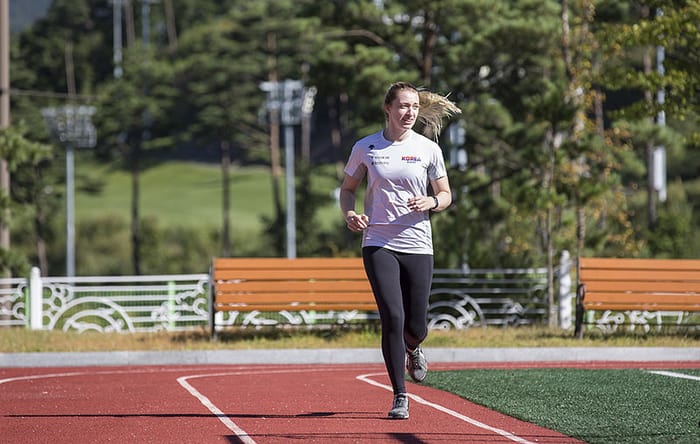 – We heard you have a Korean name? Who gave this to you?
This is unofficial, but the Korea Luge Federation gave me the Korean name Im Il-wi (임일위).
When I found out that Il-wi means "number 1," I felt a lot of pressure, but at the same time it was a huge motivation boost. This is good, because I'm the kind of athlete who deals better with pressure when I have a clear goal.
– What's it like living in Korea?
There's very little difference between living in Korea and living in Germany. Now that I'm a naturalized citizen, it's much easier to go through airport customs and sign up for various services.
– What's it like training with the Korean women's national luge team?
As the Korean women's national luge team is relatively small in scale, each athlete gets to receive personalized training. This is a huge advantage. The fact that we get to train at the sliding center in Pyeongchang where the actual Olympic event will take place is home advantage, too. If someone were to ask me to pick between the Korean luge team and the German one, I would choose Korea. That's how great it's been.
– What do you usually do during your down time?
I enjoy listening to music when I'm on my breaks. Among all the K-pop bands, my favorite is Big Bang. I find listening to music helps with learning the language, too. It's because the lyrics make you curious about what they're singing about.
– What do you hope to achieve as a luger?
I'm an ambitious athlete. If I train properly, and keep myself motivated with a clear goal, I'll become capable of achieving great things.
Just as all athletes hope to win medals, I, too, will work hard so I can secure myself a place on that podium. I'm training hard to make up for the year I lost before coming to Korea, and I'll use the benefit of the home advantage.
– Will you return to Germany after the Olympics?
I want to stay in Korea for the time being. I want to learn to speak Korean better, and experience the country more. Since moving here, I've mostly been based in Seoul and now I'm here in Pyeongchang, so I haven't had the chance to see much of the country.
More importantly, I'm Korean and I want to keep things the way they are now.