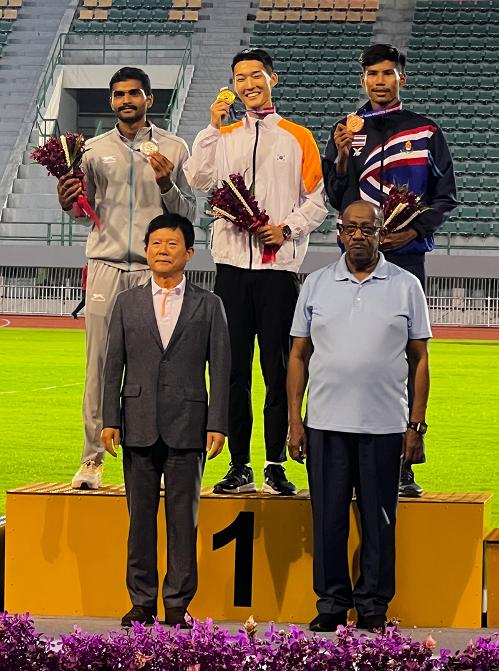 By Yun Dahee
The nation's top male high jumper Woo Sang-hyeok has reclaimed his title at the Asian Athletics Championships after six years.
At the biennial event held at Supachalasai National Stadium in Bangkok, Thailand, the wunderkind on July 15 won the gold medal by clearing 2.28 m in the final round.
Woo started the round at 2.15 m and cleared 2.19, 2.23, 2.26 and 2.28 on his first attempts to secure victory early. Sarvesh Anil Kushare of India took the silver and Tawan Kaeodam of Thailand the bronze after both cleared 2.26.
After clinching the win, Woo gave 2.33 m a shot but touched the bar on all three attempts.
He captured the gold for the first time since 2017, when he set a then personal best of 2.30 m at the same tournament in Bhubaneswar, India.
"I'm very happy to recapture the gold medal at the Asian Athletics Championships after six years," Woo said after his win. "I'll do my best to produce good results at the upcoming World Athletics Championships in Budapest in August, the Asian Games in Hangzhou (China) in September and the Summer Olympics in Paris next year."
daheeyun@korea.kr