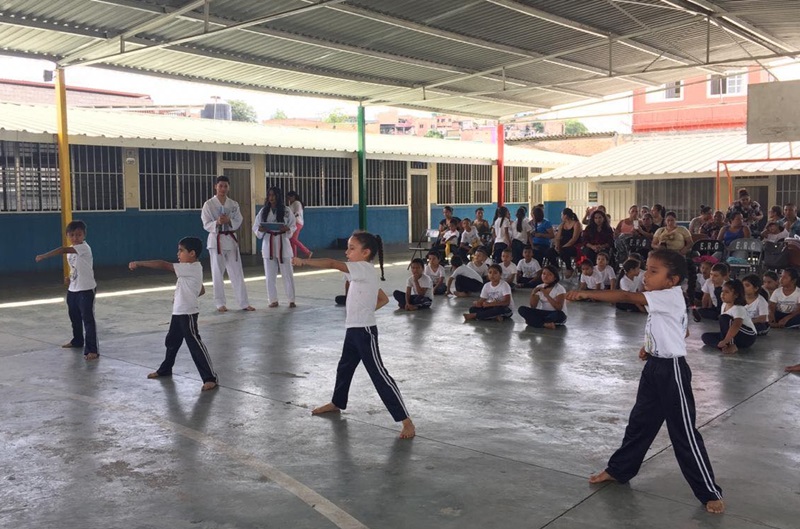 By Korea.net Honorary Reporter Luis Hércules, Song Baleun and Lee Jihae 
Honduras | Aug 7, 2019
"Taekwon!"
"Yap!"
These sounds on Aug. 7 were heard at a public elementary school in Tegucigalpa, the capital of Honduras, from children shouting as they lined up and threw punches on a playground.
In Honduras, Jan. 4 is "Taekwondo Day" to honor the late grandmaster Song Bong-kyung, who helped spread the Korean martial art throughout the Central American nation. Former Honduran President Porofirio Lobo Sosa developed a deep love for taekwondo as Song's student. He earned a third-degree blackbelt and later received an honorary ninth-degree blackbelt from World Taekwondo, the martial art's world governing body.
Due to Lobo's influence, taekwondo in Honduras is considered the second most popular sport after soccer.
Once mainly offered at private schools or studios, taekwondo classes in the Central American nation were expanded to public schools in February this year. Honduras is the first country in Latin America to adopt taekwondo as a regular subject rather than an extracurricular activity, with 16 public elementary schools in three regions, including Tegucigalpa, offering such classes twice a week.
In addition, Korean Ambassador to Honduras Shin Seung-ki has played a pivotal role in expanding taekwondo classes to about 1,800 students at public elementary schools.
"I had a firm belief that taekwondo could provide a new form of entertainment to children, whose physical activities centered almost exclusively on running and soccer," he said.
Shin suggested to the Honduran government and taekwondo-related associations to launch a taekwondo project, which was implemented with the cooperation of the Honduran Ministry of Education.
Vice Education Minister Gloria Menjivar has praised taekwondo as "a low-budget physical activity that requires no tools" and "an educational means that cultivates mental development and moral character."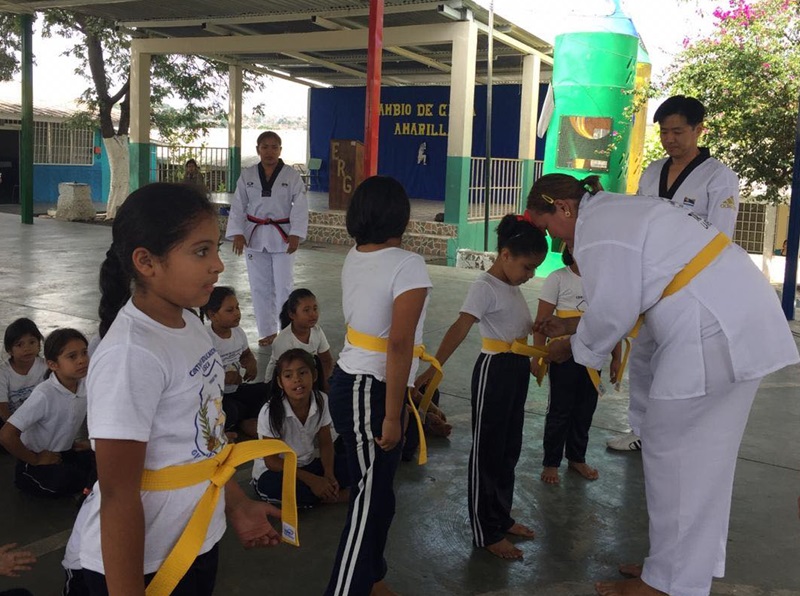 Teachers at elementary schools offering regular taekwondo classes said such classes have enhanced overall student behavior in class.
Reina Tosta, a teacher at the public elementary school Centro Escolar Básico Gubernamental Guatemala in Tegucigalpa, said, "Taekwondo has significantly helped students maintain better discipline and pay more attention in class."
Students also expressed interest and a sense of accomplishment when doing taekwondo. Kelly Silva, 7, who recently earned her yellow belt, said, "Taekwondo is easy and fun."
"I want to earn a higher belt with my friends."
The Korean Embassy in Honduras and the Honduran Ministry of Education plan to offer regular taekwondo classes at four more public schools by year's end.