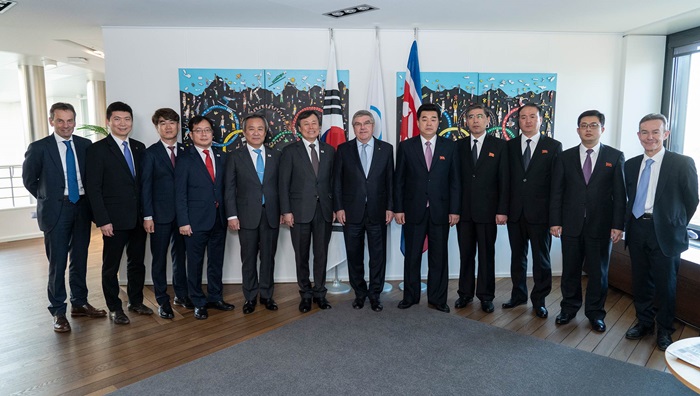 By Park Gil-ja and Kim Minji
Minister of Culture, Sports and Tourism Do Jonghwan returned home on Feb. 17 from Switzerland after attending a tripartite meeting two days earlier at the headquarters of the International Olympic Committee (IOC) in Lausanne.
Do, North Korean Minister of Physical Culture and Sports Kim Il Guk and IOC President Thomas Bach on Feb. 15 discussed the fielding of unified Korean teams in next year's Tokyo Summer Olympics and the two Koreas' bid to co-host the 2032 Summer Olympiad.
"The fielding of unified Olympic teams (in Tokyo) and the co-hosting bid for the (2032 Summer) Olympics reflect the strong will of both Koreas toward peace on the Korean Peninsula and the IOC's mission of pursuing world peace through sports," Do said.
"We've created a bond of sympathy with the IOC and gained support through the meeting. Further steps to achieve peace on the Korean Peninsula through sports will continue."
Bach said, "We warmly welcome the historic initiative of the two Koreas to put forward a joint Korean candidature for the Olympic Games (in) 2032," adding, "We think this is a great symbol of the Olympic spirit. It is a great symbol again of the unifying power of the Olympic Games."
The IOC chief also expressed support for the inter-Korean co-hosting bid, saying, "We appreciate this initiative very much, and offered our advice for the two Koreas in order to make all the necessary steps to finally have candidature."
Seoul and Pyeongyang agreed to form unified teams in next year's Summer Olympics in four events: women's basketball and field hockey, judo and rowing. Joint training by athletes from both sides will begin when the IOC's Executive Committee grants final approval late next month.
The Tokyo Olympics will be the third international multi-sports tournament to feature inter-Korean unified teams. The first was the PyeongChang 2018 Winter Olympics in February last year (women's ice hockey) and the second was the 2018 Jakarta-Palembang Asian Games in August last year (women's basketball, rowing and canoeing).
The four inter-Korean unified teams in next year's Summer Olympics will be the most of their kind in history, but the number could increase if other events including table tennis and canoeing are approved.