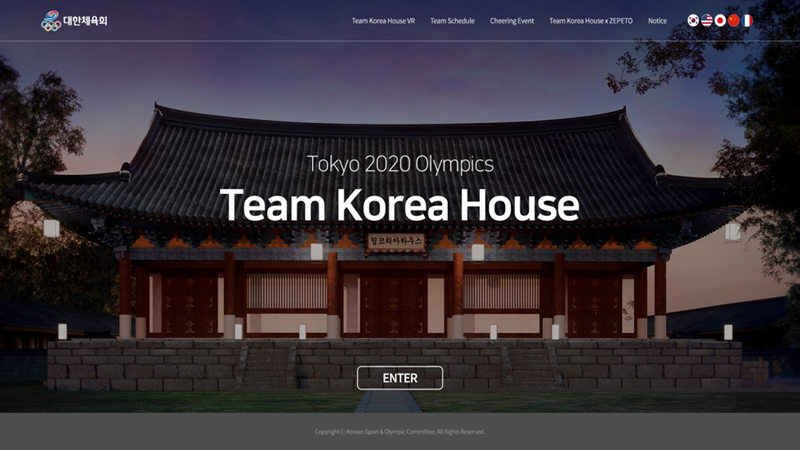 By Park Hye Ri and Lee Jihae
Photos = Ministry of Culture, Sports and Tourism
The Ministry of Culture, Sports and Tourism and the Korean Sport and Olympic Committee on July 15 launched the online service "Team Korea House" (www.teamkoreahouse.com), which they will jointly run until Aug. 8.
The ministry on July 16 said it set up the site to allow both Koreans and non-Koreans to access Korean culture and support Korean athletes given how the coronavirus has prevented attendance at exhibitions or cheering in Tokyo.
The website has Hanok (traditional architecture) as its motif and offers real-time information on events and Korean athletes during the Olympics. It also has content promoting Korean culture, sports and tourism and rooting for Korean athletes.
Virtual reality exhibitions on the website offer a variety of information on Korea. The spaces are divided into sections on Korean sports, culture and travel, and an inner yard that has news slides.
The yard has news slides on the Olympics and the Korean national team. The sports section offers information about Korea's Olympic heroes, the history of Korean athletics and the 2024 Winter Youth Olympics. The Korean culture section features traditional items such as Hanok, Hanbok (traditional attires) and pop culture trends like K-pop. And the travel section highlights leading tourist attractions.
The ministry collaborated with Naver Z Corp. to create a metaverse, or a collective virtual shared space, where users can experience Olympic events such as soccer, baseball and swimming.
A policy official at the ministry said, "We hope that Team Korea House serves as an outpost that promotes Korean culture worldwide and supports Korean athletes."
"We hope more people visit Team Korea House and root for our athletes, who've sweated so much for the Tokyo Olympics and Paralympics."