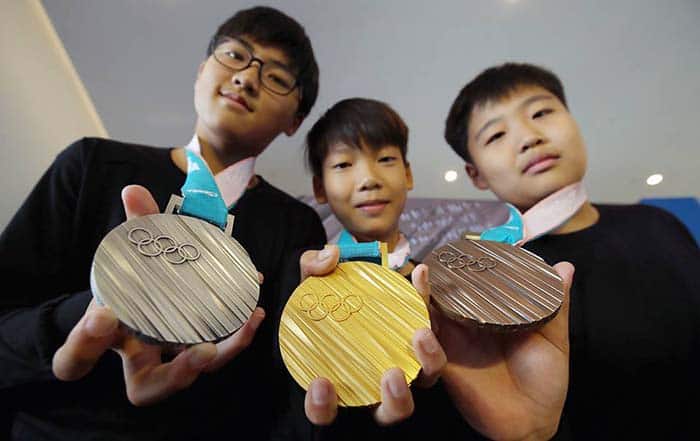 By Sohn JiAe
Seoul l Sept. 21, 2017
The medals to be awarded at next year's PyeongChang 2018 Olympic and Paralympic Winter Games have been unveiled to the public.
A ceremony to reveal the PyeongChang gold, silver and bronze medals took place at the Dongdaemun Design Plaza (DDP) in Seoul at 9:30 a.m. on Sept. 21. At the same time, across the Pacific Ocean and across North America in New York, where President Moon Jae-in is currently visiting to attend the 72nd U.N. General Assembly, the medals were also made public at the Metropolitan Museum of Art.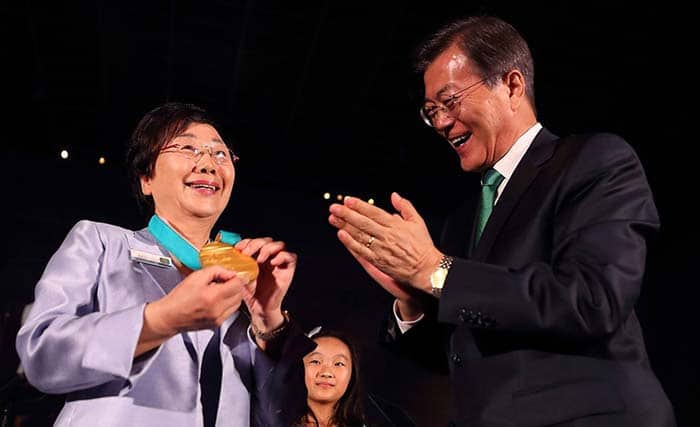 The PyeongChang medals, 92.5 millimeters in diameter, are inspired by the letters of the Korean alphabet, Hangeul.
On the rim around the medal run inscriptions of 13 consonants — ㅍ,ㅇ,ㅊ,ㅇ,ㄷ,ㅇ,ㄱ,ㅇ,ㄹ,ㄹ,ㅁ,ㅍ and ㄱ — that represent the spelling for the PyeongChang 2018 Olympic and Paralympic Winter Games in Korean (평창동계올림픽).
The face is marked with the Olympic flag in the top left, blazoned with diagonal lines that depict the endeavor and patience of the Olympic athletes, making it look as if the 13 consonants are zipping across the disc. On the back is the PyeongChang Olympic emblem and the name of the sporting event.
"This design embraces the process of Olympians making efforts to prepare for the quadrennial competition over four years, as if they are growing seeds that will eventually blossom," said medal designer Lee Suk-woo. "Hangeul is considered to be the seed and the roots of Korean traditions, arts and sports, and I tried to enshrine this meaning into the medal that I designed," he added.
The medal lanyard is made of gapsa (갑사), a type of cloth used to make traditional Korean Hanbok attire, with a snowflake pattern embroidered onto it. When hung around the neck, the medal is 42.5 centimeters down from the neck. The curved pattern of the wooden medal case is inspired by traditional Korean Hanok homes.
President Moon said in his speech at the unveiling ceremony in New York that, "Exactly 142 days from now you will see the most passionate and the most creative people in the world. I welcome you to Pyeongchang in February 2018. The name of 'Pyeongchang' (평창) is a compound of pyeong (평), which means peaceful, and chang (창), which means thriving. The name fits the Olympic spirit of pursing unity and peace."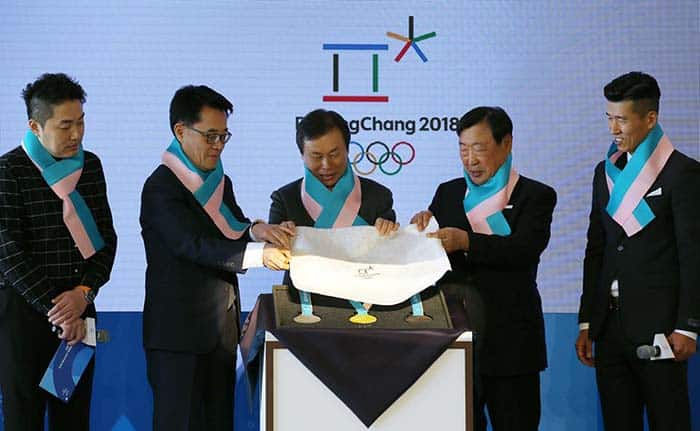 At the unveiling ceremony in Seoul, Minister of Culture, Sports and Tourism Do Jongwhan said that, "These medals are unveiled here to the world about five minutes earlier than in New York. Their design embraces our culture, clothes and letters."
The minister continued. "With these medals, we will be able to spread the beauty of our culture and traditions around the world. The PyeongChang Olympic Games will hopefully become a chance to spread the word about the strengths and potential of our nation, the excellence of our arts and traditions, and, also, the close-knit and unified people that we are. I want the PyeongChang medals to represent the hard work and dedication of the athletes that will touch the hearts of the world next year."