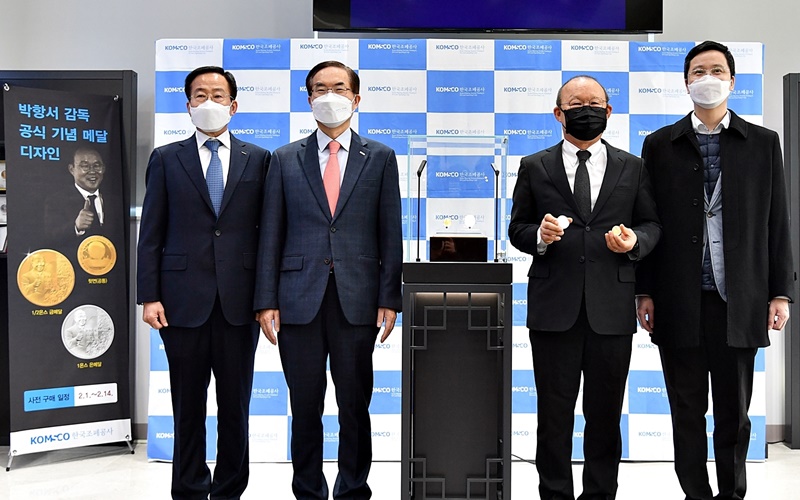 By Kim Yeojin and Yoon Hee Young
Photos = Korea Minting Security Printing & ID Card Operating Corporation
Commemorative coins honoring soccer coach Park Hang-seo, who heads the Vietnamese national team, will be released both in Korea and Vietnam.
The Korea Minting Security Printing and ID Card Operating Corp. (KOMSCO) on Feb. 1 unveiled the coins at its headquarters in Seoul's Mapo-gu District with the coach attending.
KOMSCO said it decided to make the coins in recognition of "national hero" Park's achievements in Vietnam through soccer.
The front of the coin shows him and soccer fans cheering as well as the yin-yang sign and a star that symbolize the Korean and Vietnamese national flags. The images were engraved using security technology that shows different images according to viewing angle to prevent forgery.
The back of the coin shows My Dinh National Stadium in Hanoi, where the coach and his team won the 2018 Association of Southeast Asian Nations Federation's Suzuki Cup.
Preorders for the gold and silver coins are available from Feb. 1-14 on KOMSCO's online shopping mall (www.koreamint.com).
The prices are KRW 1.59 million for the gold, KRW 132,000 for the silver and KRW 13,200 for the economy coins.
The coach said, "The commemorative coins are personally a huge honor for me," adding, "I hope that friendly relations between Korea and Vietnam will grow even closer."