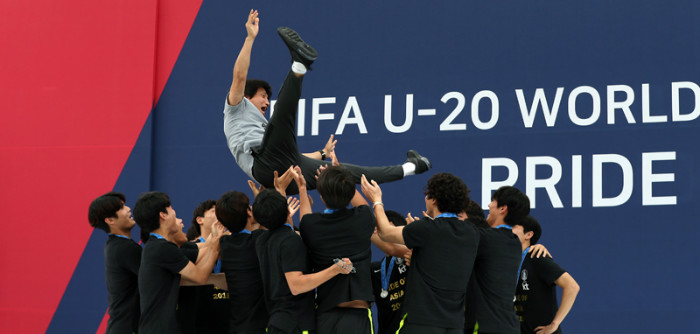 Seoul = Jeon Han and Lee Jihae 
Photo = Jeon Han 
Video = Choi Tae Soon 
Seoul | June 17, 2019
Chung Jung-yong, head coach of the national men's under-20 (U-20) team, on June 17 said he had not been tossed in the air by his players since his squad finished runner-up in both the Asian Football Confederation U-19 Championship last year and the U-20 World Cup this year.
In front of about 1,000 fans and reporters at a welcoming reception for the team at Seoul Plaza, he said, "We finished second in last year's championship and again this year, so I never got tossed in the air."
As soon as he said this, his team gathered to toss their coach in the air three times.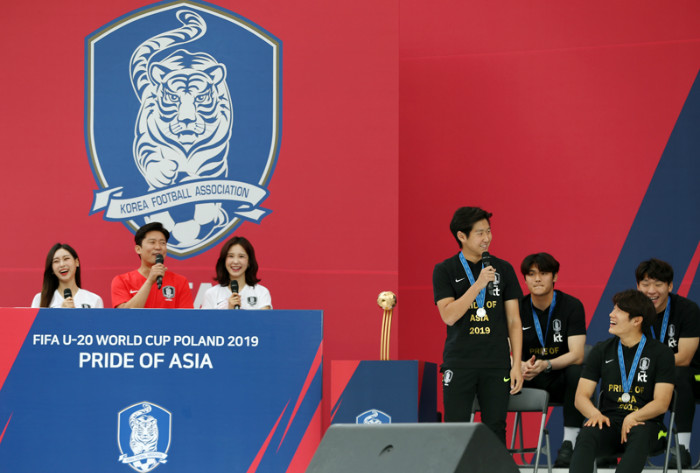 On June 15 in Lodz, Poland, Korea lost in the U-20 final, 3-1, to Ukraine. Despite the loss, the Taegeuk Warriors made history as the country's first squad to advance to the final of a FIFA men's tournament.
Star midfielder Lee Kang-in, who earned the Golden Ball as the competition's leading scorer with two goals and four assists, said, "I said this after the game, but I received this good award thanks to teammates who worked hard by my side, those who cheered for us and the coaching staff."
The event's host then asked Lee, "I heard you have two older sisters. Is there anyone on your team whom you'd set up with your sisters?"
The player jokingly responded by saying, "Honestly, no one," eliciting laughter from the audience, then mentioned two close teammates Jeon Se-jin and Um Won-sang.
On the team's second-place finish in the U-20 tournament, the best performance by a Korean men's squad in a FIFA tournament, coach Chung said, "Our runner-up finish in the tournament wasn't achieved by us players alone but by all Koreans."
"The people don't exist because of the king; rather the king exists because of the people. I'm where I am now because of the players."
Team captain Hwang Tae-hyeon said, "Our month-long U-20 World Cup is over but I think this was only the beginning and we'll pursue an even bigger dream."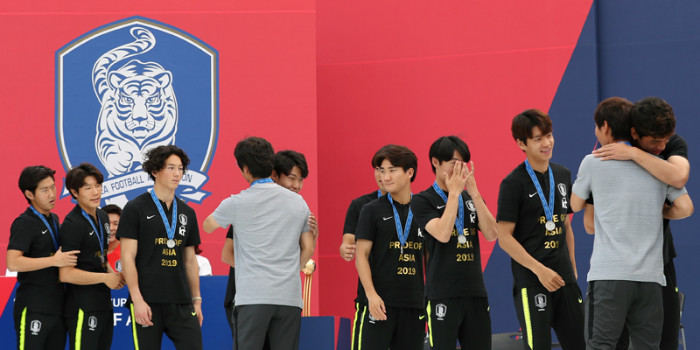 President Moon Jae-in on June 15 congratulated the team on social media, saying, "I send my support to the U-20 team and its coach as I return to Korea after a three-nation tour of Northern Europe."
"With a coach who fully understood and embraced youngsters and his players, we will always remember you as the best team."
The team was also invited to a luncheon on June 19 at the presidential office of Cheong Wa Dae.