By Yun Dahee
Photos = University of Utah Asia Campus
"It's really cool to be able to showcase our gymnastics in a different country. We all love gymnastics."
Grace McCallum, a member of Red Rocks, said this on July 1 after wrapping up a showcase featuring the women's gymnastics team of the University of Utah at the gymnasium on Incheon Global Campus (IGC) in the Songdo International Business District of the port city. The team visited Korea for the first time to participate in the event hosted by the school's Asia campus.
Led by Korean American head coach Tom Farden, the team has claimed six titles at the annual Pac-12 Women's Gymnastics Championships involving an American league of 12 member schools from the National Collegiate Athletic Association in the western region since 2014, with the exception of the 2016 and 2018-2020 editions. Ahead of the event's opening at 1 p.m., 12 gymnasts spent hours rehearsing their routines.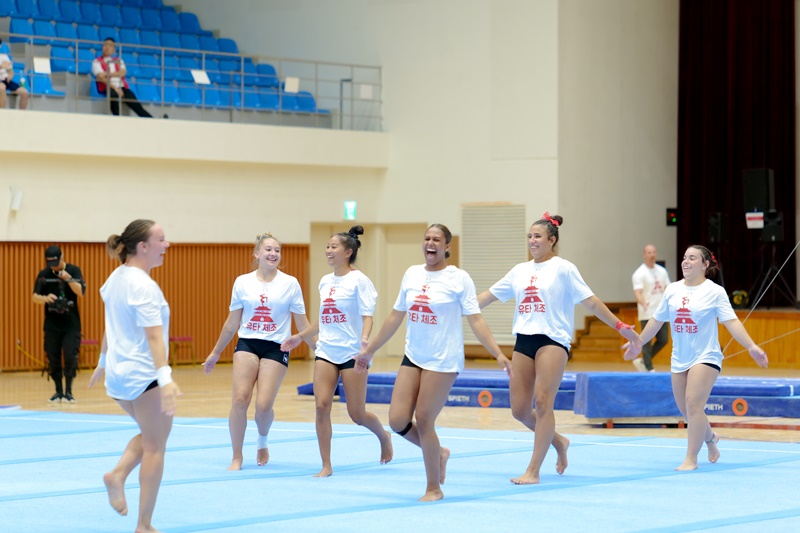 Wearing leotards specially designed for the showcase, the team kicked off the event with a group performance to K-pop sensation BTS' "Danger." The following floor exercise routine featured BLACKPINK's "Pink Venom," receiving an enthusiastic reaction from the audience. When children in the crowd made the shape of a heart with their arms, the gymnasts returned the gesture.
The one-hour event showcased performances on the uneven bars, floor exercise and balance beam, three of the four apparatus for women's artistic gymnastics except the vault. In the finale, the gymnasts sailed through their freestyle tumbling passes to "Boombayah," another song by BLACKPINK.
The event rounded off with cheering from the audience 1,200 who filled the seats. Darian Brown, a student at the university who participated in the event as a staff member, said, "I briefly came across the 70th anniversary of the Korea-U.S. alliance on Instagram. I feel like this event is an amazing thing, especially (when) the alliance is coming closer together. It's really great to see, especially in Korea."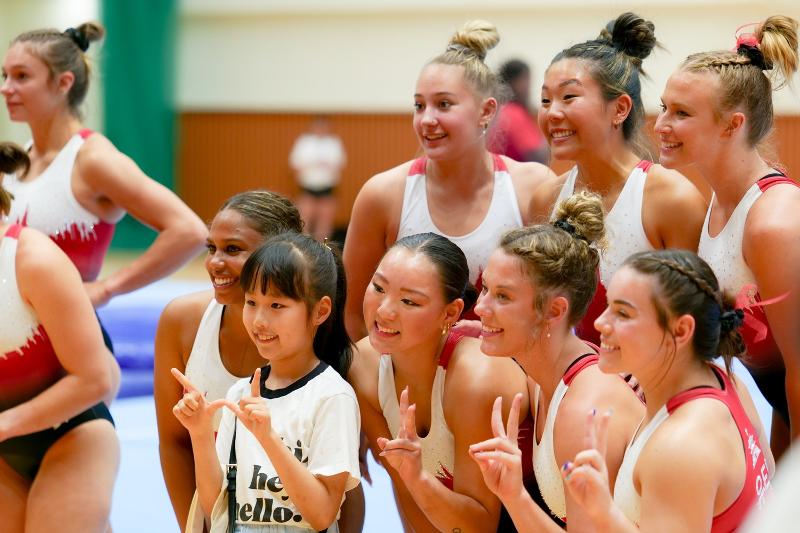 Amelie Morgan of Red Rocks in an interview after the showcase said, "I feel really honored that Korea let us come and perform here."
"I'm just really proud that we can share and combine," she added.
Commenting on the event, the head coach said, "The 70-years alliance between the United States and Korea is so meaningful on many different levels. Just the strength of the two countries working together over all these years and then to be able to celebrate some of that with our athletes competing on Korean soil — it means the world to me."
The showcase is the third edition of the school's project to contribute to regional communities, following the ballet gala in 2019 and last year's jazz concert. The Asia campus said plans to continue hosting events for interactions between Korea and the U.S.
daheeyun@korea.kr