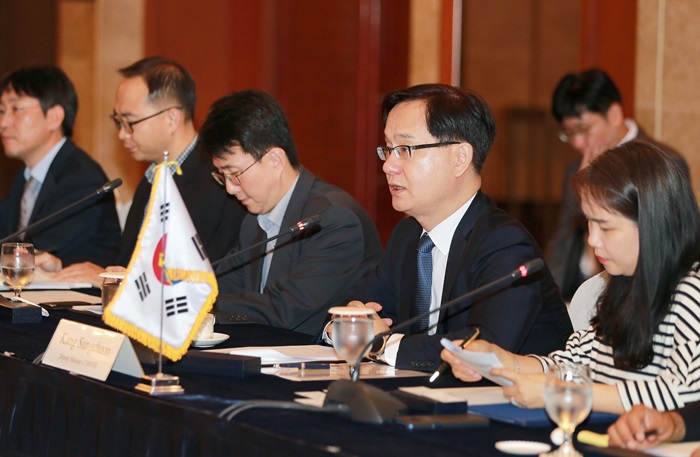 By Lee Yoonseo and Hahm Hee-eun
The first Korea-Indonesia Automotive Dialogue was held at the Lotte Hotel in Seoul on Aug. 24, to open ways for partnership between the Korean and Indonesian automobile industries.
The dialogue was set up to achieve concrete results of the Korean government's New Southern Policy, part of the Presidential Commission on Policy Planning, with the aim of strengthening cooperation among Korea and ASEAN countries.
In November last year, during President Moon Jae-in's visit to Indonesia, Korea signed a memorandum of understanding (MOU) on industrial cooperation with Indonesia, and discussed plans for further cooperation on the car industry, a key representative industry of Korea. This has led to this dialogue at the deputy minister-level.
As of last year, the size of the Indonesian car market was around 1 million units, accounting for about one-third of the ASEAN automobile market, which is 3.19 million units per year. Currently 97 percent of the automobiles sold in Indonesia are from Japanese car companies, and only 0.2 percent are from Korean car companies.
The two delegation agreed to improve the local industrial ecosystem through the diversification of Indonesian automobile brands, and agreed to expand the scope of cooperation on future aspects of the car industry, such as electric cars, hydrogen cars and autonomous vehicles, by regularizing this series of meetings.
Finally, in the dialogue, Korea, the sixth-largest automaker in the world, highlighted the excellent quality and price competitiveness of Korea-made cars. In addition, the delegation requested an improvement in the automobile consumption tax system in Indonesia, and emphasized that differentiating the consumption tax rate according to type of car and engine displacement could lead to non-tariff barriers.
clo1120@korea.kr