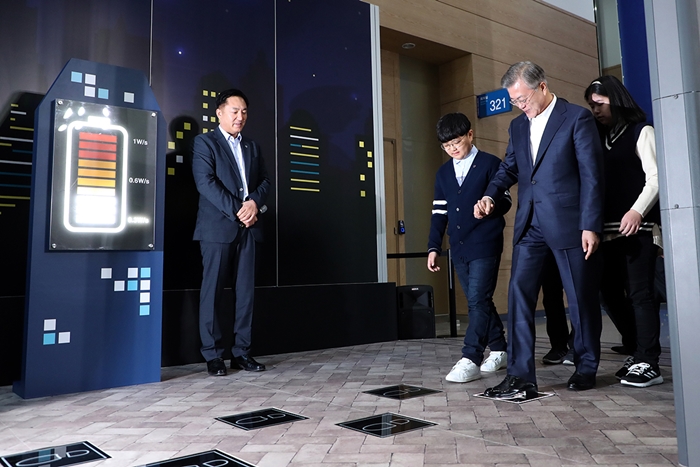 By Min Yea-Ji and Yoon Sojung 
Photos = Cheong Wa Dae
Korea's smart city of the future will allow residents to save up to 124 hours a year, including 60 hours on the road, 20 hours in administrative transactions and five hours waiting for medical consultation at hospitals.
The Ministry of Land, Infrastructure and Transport and the Presidential Committee on the Fourth Industrial Revolution on Feb. 13 gave a presentation on the Busan Smart City Innovative Strategy at the Busan Exhibition and Convention Center (BEXCO) in Korea's largest port city. Targeting the cities of Busan and Sejong, the plan will have construction begin this year and the cities opened from late 2021.
Sejong aims to boost living convenience through the introduction of mobility services such as transportation sharing and autonomous driving, while reducing the number of motor vehicles.
The city will have smart mobility roads featuring the expanded use of self-driving and transportation-sharing vehicles, electric cars and bicycles, while limiting the use of gas-powered personal cars. Smart traffic lights and crosswalks will also enhance pedestrian safety.
Sejong will also offer advanced health care services like the delivery of first-aid kits via emergency drones, transmission of patient data through video links within ambulances and customized medical services depending on a patient's condition.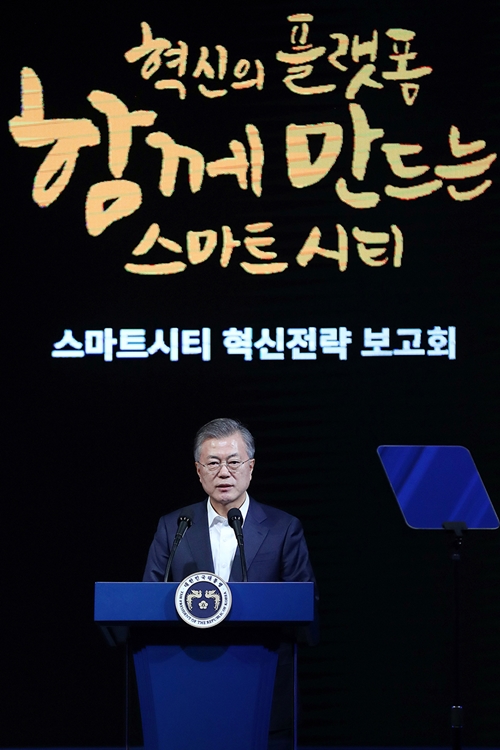 Residents of the smart city in Busan can enjoy a more efficient and safer lifestyle thanks to the inclusion of robots in their daily routines. The robots will help people park cars, serve as personal assistants backed by artificial intelligence, help with logistical distribution and offer medical services at rehabilitation centers for the disabled.
President Moon Jae-in attended the presentation and looked around the surrounding booths, saying, "(A smart city) is the place where our lives will become safer and more enriched."
"An integrated safety management system utilizing Fourth Industrial Revolution technologies will make it possible to immediately notify the general public of information on disasters such as earthquakes and fire and dispatch fire trucks within five minutes," he added.
"The urban crime rate can be reduced by 25 percent and traffic accidents by 50 percent."
For smoother operation of smart city construction and related projects, the government announced improvements to related regulations and the possible introduction of a "regulatory sandbox" for smart cities.
The smart city project is part of Korea's aggressive effort to take the global lead in the era of the Fourth Industrial Revolution. In January last year, the country set up the world's first pilot complex of smart city apartments at the national level and enacted related laws.