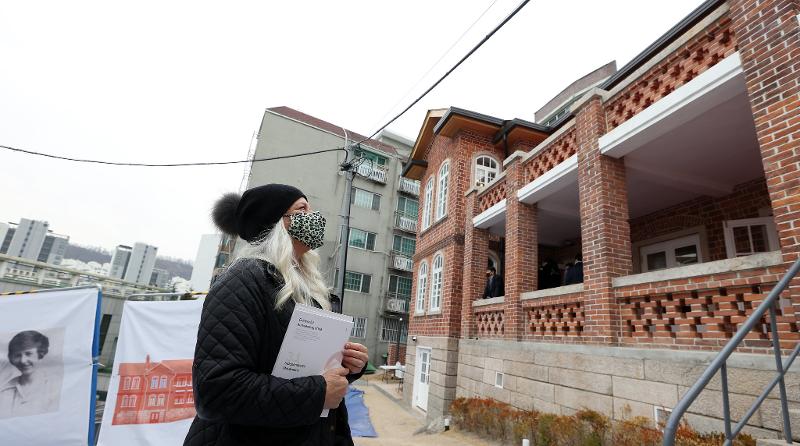 By Xu Aiying, Yoon Hee Young and Lee Jihye
Seoul | Feb. 25, 2021
Photos = Jeon Han
"My grandparents considered Korea their homeland. This was their home and where their hearts belong."
Jennifer Linley Taylor said she had a special feeling walking around Dilkusha in the Haengchon-dong neighborhood of Seoul's Jongno-gu District on the afternoon of Feb. 25.
Dilkusha is a house where her grandfather, Albert Wilder Taylor (1875-1948), an American correspondent for The Associated Press (AP) who in 1919 first reported the March First Independence Movement to the world, lived during his stay in Korea. Also a businessman, he built the house, whose name was given by his wife Mary and literally means "a palace of a heart's delight" in Sanskrit.
Albert Taylor came to Korea, then called Joseon, in 1896 to work as a supervisor at gold mines in the township of Unsan-myeon in Pyeonganbuk-do Province and operated a gold mine in Jiksan, Chungcheongnam-do Province. At the time, he was also a provisional correspondent for The AP. He helped expose Japan's atrocities on the Korean Peninsula by reporting on the movement and the massacre in Jeam-ri Village in Hwaseong, Gyeonggi-do Province.
When his wife was about to give birth to their son on Feb. 28, 1919, he found a copy of the Korean Declaration of Independence concealed in a bed at Yonsei Severance Hospital in Seoul. He hid it under the bed of his newborn child and reported it to the world through international press.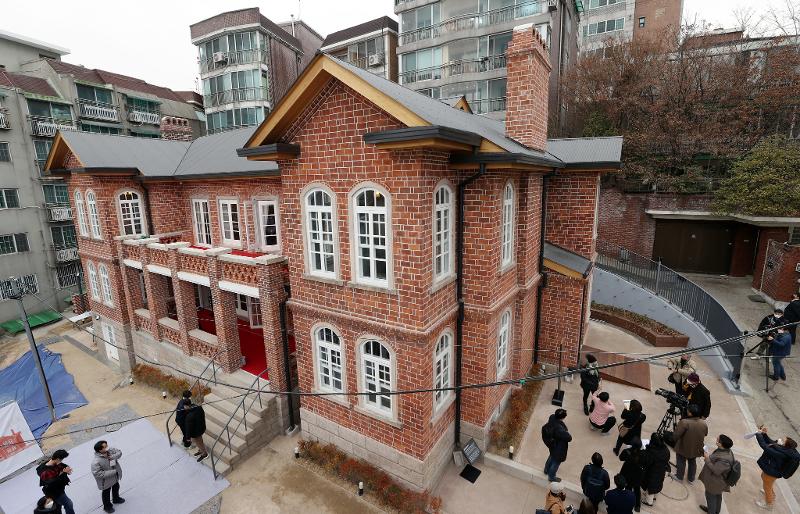 The Seoul city government restored Dilkusha to its original state and will open it to the public on March 1. This comes 79 years after Albert Taylor was deported by the Japanese and left the house abandoned in 1942.
In a preliminary media event, Dilkusha was shown as a two-story house with a basement and covering 623.78 square m. Living rooms on the first and second floors were restored to what they looked like when the Taylors lived there. The other rooms were turned into six exhibition halls showing their life in Korea and Albert Taylor's media activities.
The house was built using a unique masonry method called the rat-trap bond, a French way to stack bricks endways. This makes it an important structure in the modern history of Korean architecture as well.
Jennifer Taylor, who donated items multiple times ahead of the opening as the granddaughter of Albert Taylor, said, "Dilkusha is a historical monument showing that non-Koreans fought for Korea's independence in solidarity with Koreans," adding, "I am pleased to be able to deliver my grandparent's story, as they loved Korea and wanted it to have independence as much as Koreans did."
From March 1, Dilkusha will be opened to the public from Tuesday to Sunday. Online reservations are required through the home's official website (yeyak.seoul.go.kr/main.web). The exhibition includes a guided tour and admission is free.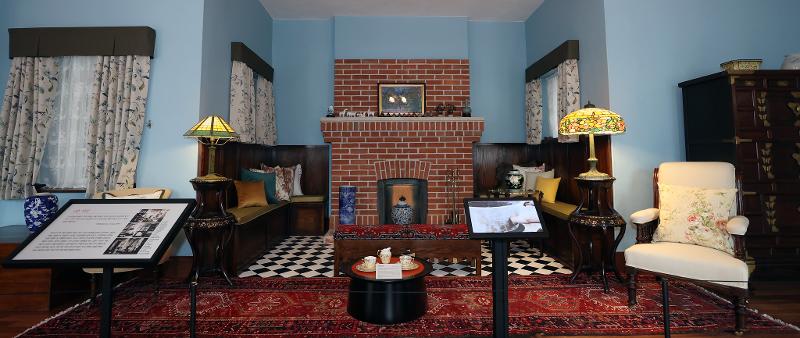 xuaiy@korea.kr