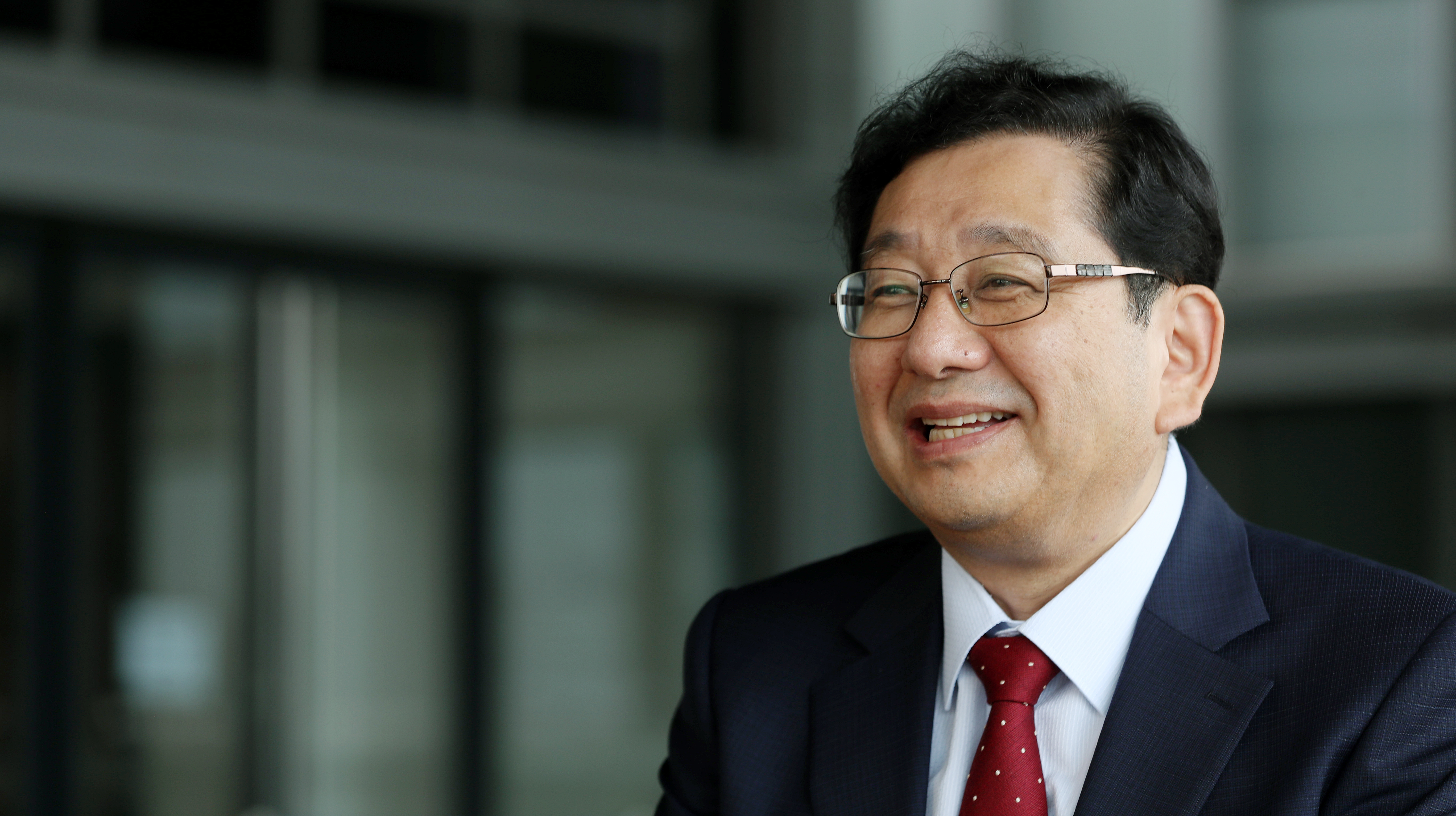 By Yoon Sojung
A Seoul-based scholar of Korea-Japan relations says the recent paper on "comfort women" by Harvard Law School professor J. Mark Ramseyer is "nothing but an irrational attempt to create political discourse rather than an academic paper."
In a written interview with Korea.net, Yuji Hosaka, a professor of political science at Sejong University in Seoul, said on the paper's biggest weakness, "I feel a grave sense of seriousness because the author did not pursue truth as a scholar and a clear political motive was embedded in his paper."
"The Japanese government and right-wingers both call 'comfort women' voluntary prostitutes," he added. "Their goal is to change the concept of comfort women by the United Nations Commission on Human Rights, which considers the women sex slaves."
"By doing so, they insist that the Japanese military in the past was a righteous force, not war criminals, and intend to revise the Japanese Constitution, revive the Self-Defense Forces as the Japanese military and allow the country to wage war, which is their final goal."
Hosaka said, "Ramseyer makes a mistake by applying game theory to economics to explain the issue of the comfort women," adding, "I felt that the author wrote about a theory with no factual evidence, and his paper seems more like fiction, not a thesis."
On Feb. 20, the Sejong professor sent his paper titled "Solid evidence debunks Ramseyer's denial of Japan's sexual slavery" to the editorial board of the International Review of Law and Economics (IRLE), in response to the request of the academic journal's editorial board for his opinion of Ramseyer's paper.
Hosaka refuted Ramseyer's claim that the comfort women were willing prostitutes and not sex slaves, saying, "Japanese police clearly distinguished among prostitutes, performers and barmaids at that time. But Ramseyer mixes up contracts for prostitutes with those for barmaids."
"Women who signed contracts to work as barmaids, restaurant waitresses or nurses, however, were later forced into prostitution by the Japanese military, and this showed the true nature and origin of the comfort women system."
Ramseyer claimed that the conclusion of contracts between Korean women and their recruiters prove that the comfort women were willing prostitutes. In his paper, however, Hosaka said he mentioned how no such contracts existed, a mistake Ramseyer acknowledged a few days later.
Hosaka said he sent an official statement on March 1 on formally requesting a reexamination of Ramseyer's paper and legalizing a ban on denying the comfort women issue to the speaker of the U.S. House of Representatives, president of Harvard University, editor-in-chief of the IRLE and parliamentary speaker of Korea. The statement was jointly issued by surviving comfort woman victim Lee Ok-seon, scholars, politicians, 19 human rights lawyers, the chairman of the Heritage of Korean Independence and U.S.-based high school student Rachel Lee.
Download the PDF file at the bottom to read the paper and the statement in Korean and in English.
The following is the full text of Korea.net's interview with Hosaka.
– What is the biggest problem with Ramseyer's paper?
I feel a sense of grave seriousness with his paper because Ramseyer does not pursue truth as a scholar, and a clear political intention is embedded in his paper. This is evident in the quotations and references in his paper. The paper is nothing but an irrational attempt to create political discourse rather than a proper academic paper.
I thought Ramseyer erred by applying game theory to economics to explain the issue of the comfort women. I felt that the author wrote about a theory with no factual evidence, and his paper seems more like fiction, not a thesis.
– Mark Peterson, professor emeritus of Brigham Young University, criticized Ramseyer's paper for only examining the legal aspects of the comfort women's contracts. Does the paper contain parts that are not factually correct?
A lot. First, Ramseyer erroneously argues that neither the Japanese government nor military was involved in the comfort women issue. Both the Japanese government and military selected recruiters in absolute secrecy and ordered them to recruit women while offering conveniences to the recruiters, while cracking down on unlicensed recruiters. The Japanese military issued certificates to the women to allow the latter's passage overseas. The Japanese Foreign Ministry allowed the women passage as "military personnel" even if they only had a certificate from the Japanese military, not police, and forced them into prostitution. These are all documented facts but Ramseyer mentions none of them.
Moreover, women did not sign contracts for providing sexual services or the like. Starting from Shanghai in 1927, the Japanese government abolished licensed prostitution. This is why Japan could not make contracts for sexual services when sending women overseas. Instead, the Japanese military and the women concluded contracts for other jobs, including a contract for barmaid that remains to this day. But this was not a real contract but a form of contract devised by recruiters. The concepts of barmaids and prostitutes are totally different and each profession was clearly differentiated at the time in Japan. Ramseyer, however, mixes up contracts for prostitutes with those for barmaids.
Women who signed contracts to work as barmaids, however, were later sent to comfort stations and forced into prostitution by the Japanese military. And also forced into prostitution for the Japanese military overseas were women who were duped into signing contracts as restaurant waitresses or nurses at military hospitals abroad. This showed the true nature and origin of the comfort women system.
– Evidence clearly shows that the Japanese military forced the comfort women into sexual slavery. So why do you think Ramseyer wrote such a paper?
The Japanese government has repeatedly issued statements claiming that the comfort women were not sex slaves. Japanese right-wingers also argue that the comfort women were prostitutes. Ramseyer supports both claims. Both the Japanese government and extreme rightists define the comfort women as voluntary prostitutes. Their goal is to change the notion of the comfort women by the United Nations Commission on Human Rights, which considers them sex slaves. By doing so, the intent is to make the world believe that the Japanese military in the past was a righteous military, not war criminals, to revise the Japanese Constitution and revive the Self-Defense Forces as the Japanese military to allow the country to wage war, and this is their final goal.
– Harvard University's president said Ramseyer's paper is allowed under academic freedom. What do you think about this?
The Harvard University president's stance was in response to a letter from the Voluntary Agency Network of Korea urging disciplinary action against Ramseyer. As the president of the university, I think he had no choice but to say what he did in principle. If he was well aware of the comfort women issue and read Ramseyer's work, however, I believe he would not have given his answer. I think that he could at least consider reexamining the paper.
– Ramseyer also presents data to back his claims.
I doubt the credibility of many data he presents. Some are from a blog of an anonymous person. Many data are not primary sources. He also tends to arbitrarily interpret data. In many parts, Ramseyer fails to look at the data as a whole but quotes just small parts from it just to back his claims. I also find many problems in the selection, interpretation and quotations of data in his paper.
– Did Ramseyer's title of Mitsubishi professor of Japanese legal studies affect the writing of his paper?
If you try to find why he wrote such a distorted paper, it is more accurate to consider Ramseyer an original supporter of Japanese right-wing extremists given how his salary and research funds are supported by a Japanese company. His previous papers contain many points similar or almost identical to those of Japanese right-wing extremists. To merely say that he coincidentally happens to be a "Mitsubishi professor" is difficult.
arete@korea.kr
Download the PDF files below to read the paper and the statement.
1. Eng_Statement to Professor John Ramseyer's Paper(all)
2. Kor_Statement to Professor John Ramseyer's Paper(all)
3. Yuji Hosaka_Paper_IRLE_Responding to Ramseyer