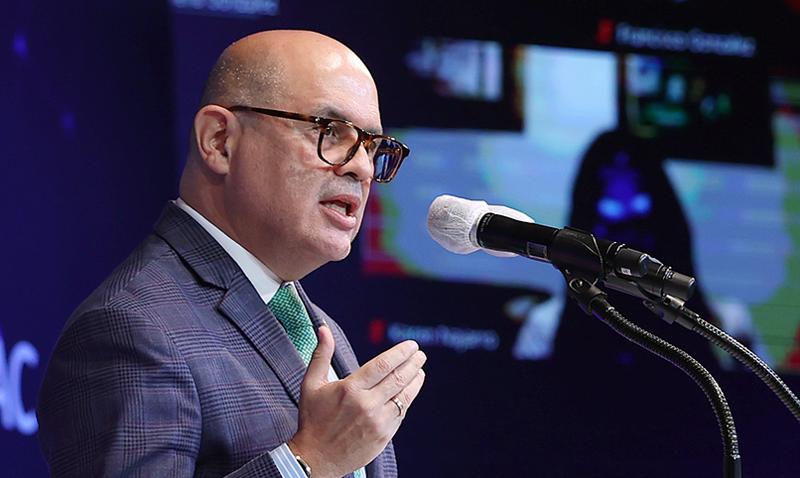 By Yoon Sojung and Elias Molina
Photo = Jeon Han
Seoul | March 18, 2021
"President Moon Jae-in's 'net-zero' goal for 2050 and Costa Rica's 2030 National Decarbonization Plan have many things in common," Costa Rican Minister of Foreign Affairs and Worship Rodolfo Solano Quiros said on March 18 during an official visit to Korea.
"Based on these common points, we can build a bridge connecting Korea and Central and Latin American nations."
In an interview with Korea.net at the Costa Rican Embassy in Seoul's Jung-gu District that day, he said, "Bolstered cooperation between Korea and Costa Rica can contribute to developing Korea's relations with Central and Latin American countries."
Appointed to his post last year, Minister Solano on March 15 left on his first overseas trip as his nation's top diplomat to Korea to attend the Korea-LAC (Latin America and the Caribbean) Digital Cooperation Forum. The event was jointly hosted by the Korean Ministry of Foreign Affairs and the Ministry of Science and ICT.
Solano has history with Korea, having served as Costa Rican ambassador to Seoul from September 2015 to August 2019 and consul at his nation's embassy from September 2002 to November 2010.
This year, Costa Rica marks the bicentennial anniversary of its independence as well as its entry as the 38th member nation of the Organisation for Economic Co-operation and Development.
The following are excerpts from Korea.net's interview with the minister.
– This is your second interview with Korea.net; the first was in 2018. How do you feel about returning to Korea this time?
I have mixed feelings this time. Personally, this is my first official overseas visit since being appointed foreign minister. Considering the limits on all exchanges due to COVID-19, my return to Korea holds a lot of significance.
– Costa Rica seeks to expand the use of renewable energy and electric vehicles since its 2019 announcement of the National Decarbonization Plan (NDP) in 2019. What is the reason behind this energy transition?
Costa Rica chose a "green and inclusive approach" to recover from the COVID-19-induced economic crisis. In 2019, Costa Rica announced the NDP to promote both infrastructure and a change in mindset. We all agree that an approach of a green and inclusive economy is the only way to overcome the current situation.
The Green New Deal announced by President Moon Jae-in last year is also about achieving carbon neutrality by 2050. This plan is in line with Costa Rica's 2030 NDP and both countries have common goals. Moreover, Costa Rica three weeks ago announced its so-called 3D Plan, a comprehensive version of the NDP. The "3D" refers to "decarbonization, digitalization and decentralization" and reflects the intent to more deeply decarbonize. Based on the fundamental 3D framework, this plan focuses on local governments taking control of the development they wish to achieve while creating environmental, economic and social ecosystems. This is quite similar with the Korean New Deal. Based on the common approaches of the Korean New Deal and Costa Rica's 3D Plan, we can build a bridge that connects Korea and Central and South American countries.
– The free trade agreement between Korea and Costa Rica took effect in 2019. What sectors will be benefited the most from the pact?
The Korea-Costa Rica FTA is the first "new generation" FTA. This is because the accord goes beyond tariffs to focus on small and mid-size companies, innovation and a knowledge-based economy, while seeking to create a good environment for trade and investment and job creation.
While inequality has spread worldwide, the only sectors that can solve this situation and generate jobs are e-commerce, the digital field and the green economy. Both countries can share their common values and best practices with their Latin American partners through the FTA to expand cooperation to other areas in addition to the economy. This agreement will also be a crucial first step to realize the 2030 NDP.
– Why do you think bilateral human and cultural exchanges have risen over the last ten years?
The answers are found from both psychological and sociological perspectives. From a sociological view, Koreans understand that the Central and South American region can be also their horizon, not just the Pacific. Based on this understanding, Koreans use strategies to discover not just opportunities for investment, commerce and trade but also those for human exchange. This is why many Latin American students today come to Korea to study not just economic success, but also Korean culture.
The psychological perspective is closely related to Hallyu. This well-made cultural strategy includes Hallyu dramas and pop music. Hallyu's success ranging from those of singer Rain and BTS shows how well Korea understands culture and the win-win strategy that such success is based on. This strategy not only connects Koreans with Latin Americans, but also offers the latter another horizon other than the Atlantic. From this point, people from both regions meet and share their cultures. When I get on a KTX high-speed train, I now find one or two people who understand Spanish. I feel very lucky to directly see such a moment.
– How has bilateral cooperation been in responding to COVID-19?
COVID-19 is attacking everyone regardless of nationality, border, race, society or economy. To jointly respond to the pandemic, Korea and Costa Rica have been closely cooperating while providing assistance. Seoul offered necessary goods for responding to the coronavirus, something San Jose appreciates. Costa Rica is working with Korea in science and technology cooperation. Medical experts and researchers from both sides are also conducting academic exchanges and will do joint projects after the vaccination process.
The two sides are also working together in important projects for access to medical supplies and vaccines. Vaccines are very important, and thus it is important for all countries to gain access to them. Nobody will be really safe until all the people is vaccinated. Through the COVAX initiative, the two nations have cooperated multilaterally so that many countries can access medical goods and vaccines. And at the Republic of Korea-SICA (Central American Integration System) forum that Costa Rica hosts next month, both countries will cooperate in research and development of pharmaceuticals and health care. Costa Rican medical experts and scientists will work with Korea to provide information on infectious diseases like COVID-19 and conduct research to prevent similar diseases from spreading.
– This year is the bicentennial anniversary of Costa Rican independence and marks your nation's entry as the 38th member of the OECD. Also, next year, Korea and Costa Rica marks the 60th anniversary of establishing diplomatic relationship. How will your country mark these milestones?
This year is the bicentennial anniversary of Costa Rica's independence and our entry into the OECD. Next year will mark the 60th anniversary of diplomatic relations between Korea and Costa Rica. Thanks to such symbolic and coincidental moments, we can build a stronger bridge between both countries. This is important not just to celebrate the past 200 years and the 60 years, but also important is to look ahead to the next 200 and another 60 years.
This year marks Costa Rica's entry into the OECD and Korea's 25th anniversary as an OECD member. As OECD member states, we have the same responsibility of sharing our experiences and best practices with our regional neighbors. If COVID-19 permits, I hope we can travel and exchange freely as we did in the past. I also wish for President Moon Jae-in and Costa Rican President Carlos Alvarado Quesada to exchange visits and hold talks on bolstering bilateral relations.