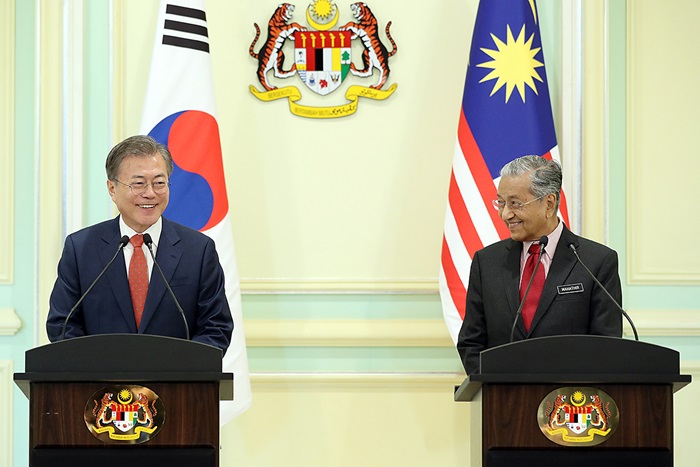 By Park Gil-ja and Lee Hana
Photos = Cheong Wa Dae
President Moon Jae-in and Malaysian Prime Minister Mahathir Mohamad on March 13 pledged to reach a bilateral free trade agreement and conclude negotiations toward that goal by year's end.
In a joint news conference at the prime minister's office in Putrajaya, Malaysia, both leaders said they also discussed boosting cooperation in future vehicles, information technology (IT), smart industries, medicine and the halal market.
President Moon said in his opening statement, "I look forward to the success of Malaysia's Look East Policy and our New Southern Policy, two initiatives that will bring peace and prosperity to the citizens of our global community. Next year will mark 60 years of diplomatic relations between our two countries, and I hope to elevate our relations to the level of a strategic partnership on this occasion."
"Korea and Malaysia have very similar perspectives on a number of issues," Mahathir said. "We are developing our IT and engineering sectors and would like to learn from Korea's rapid economic development."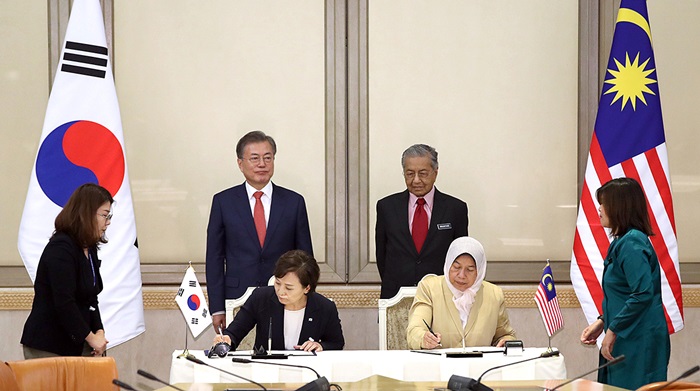 The two also agreed to increase the number of visitors between their countries, which hit 100,000 last year, and discussed expanding interpersonal and cultural exchanges ahead of next year's 60th anniversary of diplomatic ties. With Korea set to build smart city infrastructure in the Malaysian beachside city of Kota Kinabalu, both sides will jointly improve transportation networks by setting up intelligent transportation systems.
Furthermore, they vowed to work together to bring peace to the Korean Peninsula and help North Korea build relations with member nations of the Association of Southeast Asian Nations (ASEAN) and the greater world.
Following a Korea-Malaysia business forum on March 14, President Moon will leave for Cambodia, the final leg of his tour of three ASEAN nations.
President Moon Jae-in's opening remarks at the Korea-Malaysia summit can be found at the link below:
http://www.korea.net/Government/Briefing-Room/Presidential-Speeches/view?articleId=169066&pageIndex=1