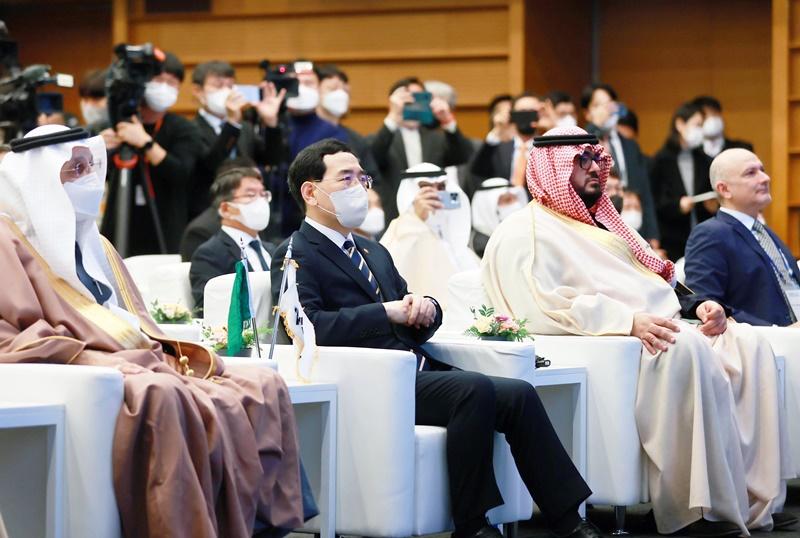 By Israa Mohamed
Photos = Ministry of Trade, Industry and Energy
On the occasion of the visit to Korea by Saudi Arabian Crown Prince Mohammed bin Salman, leading Korean companies have concluded 26 memorandums of understanding (MOUs) with the Saudi government, organizations and corporations worth tens of trillion of KRW.
The Ministry of Trade, Industry and Energy and Saudi Ministry of Investment on Nov. 17 held the Korea-Saudi Investment Forum at the Korea Chamber of Commerce and Industry in Seoul's Jung-gu District. Approximately 300 government and economic figures attended including Minister of Trade, Industry and Energy Lee Chang-Yang and Saudi Minister of Investment Khalid Al-Falih.
Among the business agreements and MOUs signed were a Phase 2 engineering, procurement and construction deal between S-Oil and Korean construction companies; a contract on cooperation between Hyundai Rotem and the Saudi ministry in building a railroad in the Saudi city of Neom; and an accord on cooperation in new energy sources such as green hydrogen between a Saudi public investment fund and five Korean builders.
S-Oil, an affiliate of the Saudi government-run corporation Aramco, made the final decision to push ahead with the Shaheen Project valued at KRW 9.25 trillion. With Hyundai Engineering & Construction, Hyundai Engineering and Lotte E&C, the project from next year will build a massive petrochemical factory in Ulsan over three years as the largest foreign investment in one venture in Korean history.
Minister Lee said, "The Shaheen Project uses the complementary energy and industrial structures of Korea and Saudi Arabia to serve as the best case study of success in leading a low-carbon and high added-value oil sector."
Announced by the crown prince in 2017, the Neom project has investment of USD 500 billion to build a cutting-edge future city east of the Gulf of Aqaba between the Saudi Arabian Peninsula and Egypt.
An MOU concluded by five companies including Samsung C&T and the Saudi fund formed a partnership for joint development of renewable energy sources in the Mideast country like solar and wind power and the production of green hydrogen and ammonia.
Cooperation projects with Saudi Arabia were also decided in energy sectors such as cogeneration (Korea Electric Power Corp.), gas and petrochemicals (Daewoo E&C), gas insulated switchgear (Hyosung Heavy Industries) and in manufacturing areas such as casting and forging plants (Doosan Enerbility), industrial fitting valves (BMT) and electric compressors (Turbowin).
Also announced was the launch of projects in bio and health such as vaccine and serum technology (Eubiologics), probiotics (Bifido), and agriculture, service and investment such as smart farms (Kolong Global), engineering services (Dongmyeong Engineering), recycling plants (Mecen IPC) and investment cooperation (Korea Venture Investment).
Minister Lee said, "To mark the 60th anniversary of bilateral ties this year, let us solidify our cooperation as mutually beneficial partners based on the faith and trust we have built in the energy and construction sectors and jointly overcome the current crisis."
His ministry said bilateral economic cooperation has expanded and covers not only cutting-edge manufacturing and energy but all industries including smart cities and farms, education, health, culture and services.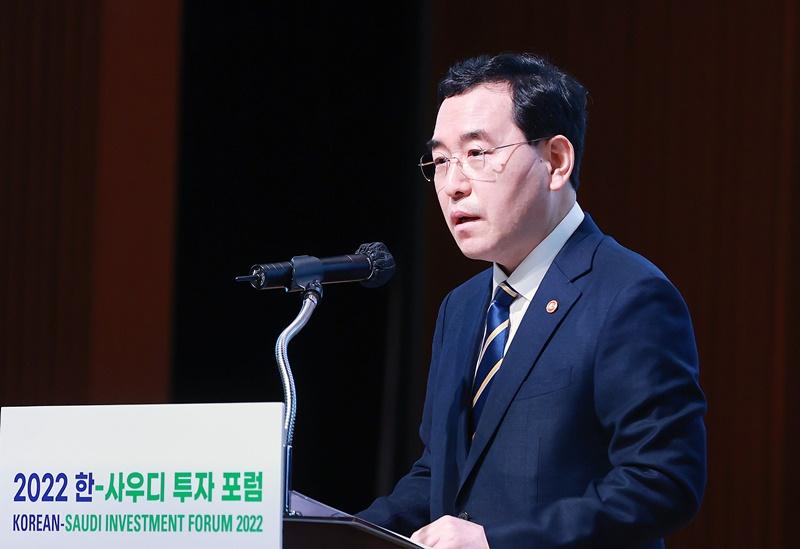 ess8@korea.kr