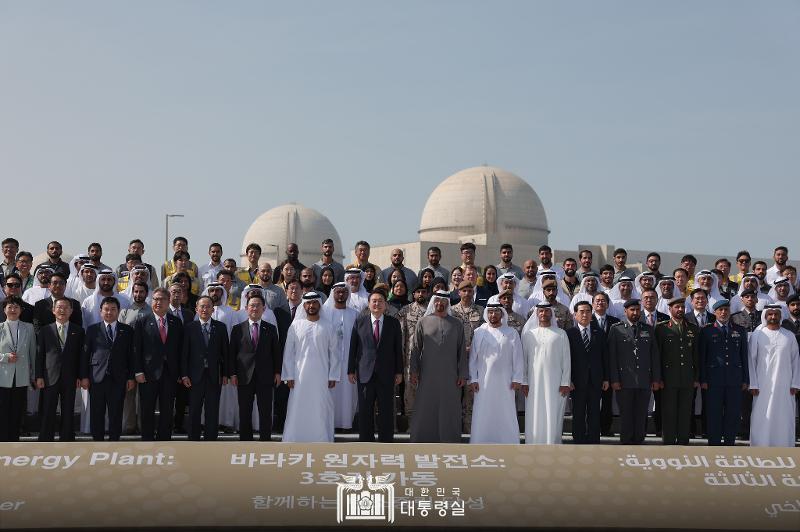 By Yoon Sojung
Photos = Facebook page of Office of the President
President Yoon Suk Yeol on Jan. 15 adopted a joint statement with United Arab Emirates (UAE) President Mohammed bin Zayed Al Nahyan on the occasion of President Yoon's state visit to the Mideast country.
Korean media including Yonhap News said both leaders in the statement agreed to further deepen and develop their "special strategic partnership."
The two sides agreed to bolster strategic cooperation in the four core sectors of the peaceful use of nuclear energy, conventional and clean energy, economy and investment, and defense and defense technology.
The UAE side said in the statement, "As part of the wider Special Strategic Partnership framework, and building on the UAE's confidence in the ROK's (Republic of Korea) economic strength and growth prospects, the UAE announced a commitment by its sovereign wealth funds to invest $30 billion in strategic sectors in the Republic of Korea."
In conventional energy, Seoul and Abu Dhabi agreed to form a comprehensive strategic energy partnership to strengthen cooperation in key energy sectors including oil and gas, strategic crude oil reserves, renewable energy, and hydrogen and hydrogen by-products.
The two leaders agreed that the peaceful use of nuclear energy is a core pillar of bilateral cooperation. The UAE praised the Barakah Nuclear Power Plant, saying the project is "dramatically accelerating the decarbonisation of the UAE's power sector in support of the latter's pledge to reach Net Zero by 2050."
Both sides also agreed to expand cooperation to new fields such as small modular reactors through a high-level bilateral talks on nuclear power.
They pledged stronger strategic cooperation in future-oriented sectors like space and new industries such as culture, health and medicine, and culture and human exchange.
In the era of the Fourth Industrial Revolution and digital innovation, the two governments agreed to closely cooperate in joint research and human exchange in information and communications technology including artificial intelligence, data and networks.
To expand public-private cooperation in sectors like digital transformation, mobility and aerospace, parts and materials, and supply chain stability, they agreed to launch a strategic partnership in industry and advanced technology and announced a joint initiative for cooperation in advanced manufacturing.
For the peaceful and sustainable use of space, the two countries agreed to develop cooperation in the sector in a mutually beneficial manner. To this end, they agreed to amend a bilateral memorandum of understanding on space cooperation and expand the scope of cooperation between the Korean Ministry of Science and ICT and the UAE Space Agency to additional sectors like space exploration, satellite-based global navigation systems and earth observation.
To respond to climate change and enhance food security, both countries agreed to bolster cooperation in smart farming in agricultural sectors such as smart greenhouses. To tackle water shortages and maintain stable crop production, they will strengthen cooperation to achieve the United Nations' Sustainable Development Goal 6 of seeking "clean water and sanitation for all."
Increased cooperation in water resources will include collaboration in desalination, smart water management, wastewater treatment, management of natural water resources, and cooperation in international initiatives for water scarcity.
Korea and the UAE will also work closely together to respond to climate change through efforts like collaboration in Abu Dhabi's hosting of the 28th session of the Conference of Parties to the U.N. Framework Convention on Climate Change (COP28) scheduled from Nov. 30 to Dec. 12.
President Yoon visited the Barakah plant to attend a ceremony marking the completion of Unit 3, took part in Abu Dhabi Sustainability Week and UAE-Korea Business Forum, and attended the Dubai Future Forum in Dubai. After completing his state visit to the UAE, he will fly to Switzerland on Jan. 17 to attend the World Economic Forum, aka the Davos Forum.