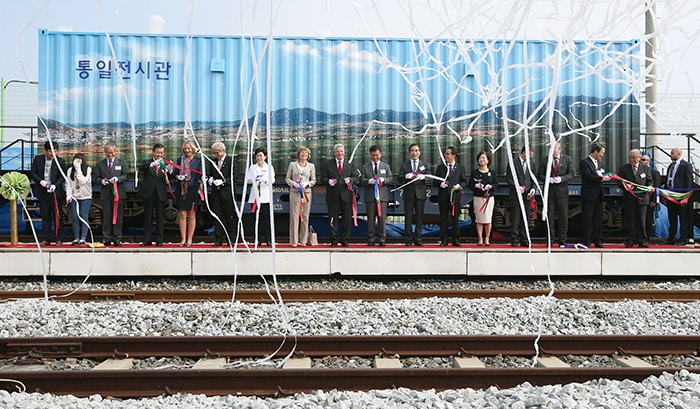 The Tongil Platform, or "Unification Platform," was opened to the public at Dorasan Station, the northernmost station along the Gyeongui Line that connects Seoul to Sinuiju, on the banks of the Amnokgang River. At the commemorative platform, there's a range of art work and memorials showing the people's longing for Korean reunification.
There is the Unification Gate, Unification Time Wall that shows a clock counting how long Korea has been divided, the Wishing Wall and the Unification Exhibition Hall. German President Joachim Gauck, Minister of Unification Hong Yong-pyo, KORAIL President Choi Yeon-hye and other dignitaries participated in the platform's commemoration ceremony on Oct. 14.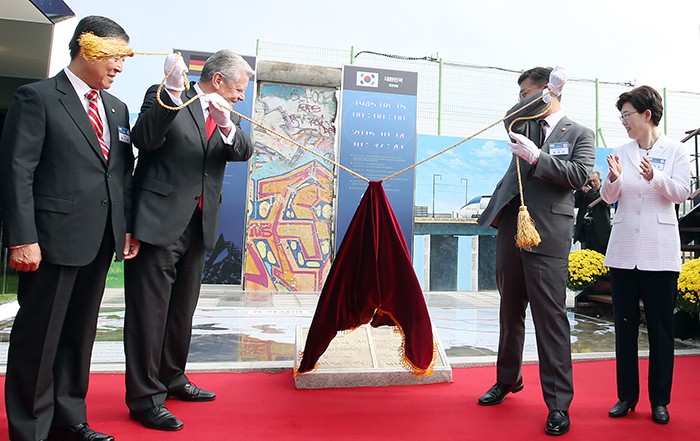 German President Joachim Gauck and Unification Minister Hong Yong-pyo unveiled a copper plate with a message of unification that wishes for the reunification of Korea. On the plaque, President Park Geun-hye wrote, "Create a unified Korea and help the world become more peaceful," and President Joachim Gauck wrote, "To find and create a life of freedom together."
President Gauck passed through the Unification Gate engraved with wishes for Korean unification written in 11 languages. KORAIL President Choi Yeon-hye explained the platform's map of all of Eurasia, highlighting the railway that could connect Korea to Berlin, as President Gauck looked on attentively. Gauck also inspected the Unification Time Wall, which represents the Berlin Wall, now a symbol of peace. It shows Germany's time of division having stopped, but shows that the division of the Korean Peninsula continues onward.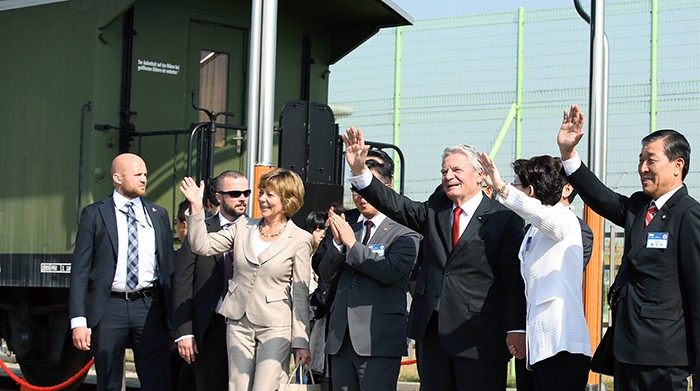 Unification Minister Hong Yong-pyo said, "The most interesting thing was the postal train and the military caboose that ran between the two Germanys. During the Cold War, the train carrying letters allowed people to communicate with their families. That has important meaning for us."
Finally, KORAIL President Choi Yeon-hye concluded by saying that, "President Gauck is a hero for unifying Germany. His visit to Korea, one of the only divided countries remaining in the world, will encourage the Korean people to be hopeful. I hope Korean unification will be realized as soon as possible, so as to make the South-North railway connect with the continental railway system."
By. Jeon Han, Shin Jaewon
Korea.net Staff Writers
Photos: Jeon Han
[email protected]