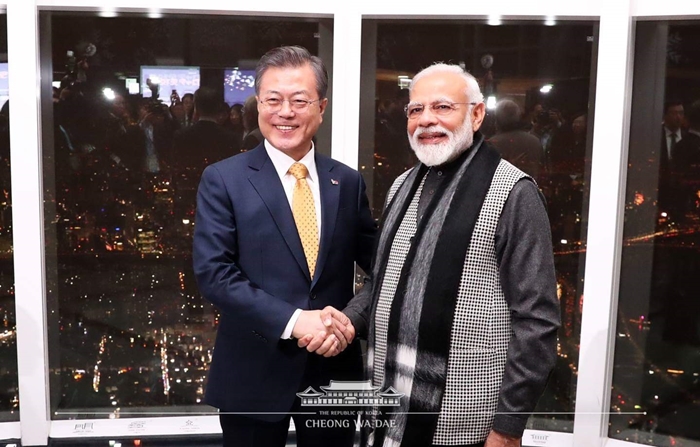 By Park Hye Ri and Kim Minji 
President Moon Jae-in on May 24 posted a Facebook message congratulating Indian Prime Minister Narendra Modi on his re-election.
"The people of India once again chose to stand by Prime Minister Modi," the president said. "They elected a leader who will help India truly flourish through his warm and harmonious leadership. I would like to offer my congratulations to Prime Minister Modi, who has safely navigated the month-long election process and claimed ultimate victory."
"Prime Minister Modi is like a brother to me," he added, mentioning the Indian leader's visit to Seoul in February, when they reaffirmed bilateral relations and set the goal of USD 50 billion in two-way trade by 2030.
Saying India has the biggest potential for economic growth in the world, President Moon said, "Friendship with India will open up great opportunities for Korea as well."
"I would like to convey my high regard for the Indian people, who chose Prime Minister Modi. He will be a true neighbor not only to those who voted for him, but also to all the Indian people."
In response, Modi tweeted, "I am deeply touched by the warmth you have always displayed for me and my people. I look forward to big strides in India-ROK relations with your support in the coming years!"
Modi's Bharatiya Janata Party won 303 of the 543 seats up for grabs during the April 11-19 elections. His second term as prime minister will extend through 2024.