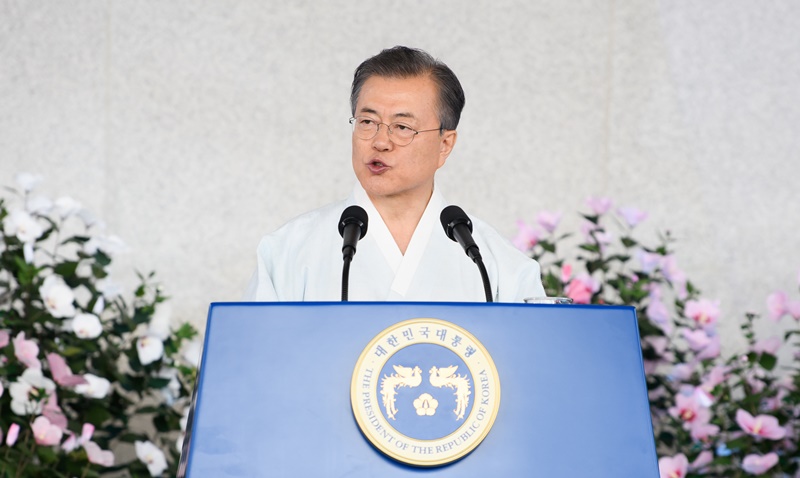 By Kang Gahui and Lee Jihae 
Photos = Hyoja-dong Studio
President Moon Jae-in, in a speech to mark the 74th National Liberation Day on Aug. 15, said Korea as an economic powerhouse must uphold the free trade order and lead equitable cooperation in East Asia.
In a ceremony marking the national holiday at the Independence Hall of Korea in Cheonan, Chungcheongnam-do Province, he said Korea has not yet become an impregnable nation because it remains divided and of insufficient strength.
"We will stand against Japan's unwarranted export restrictions and march forward toward becoming a responsible economic powerhouse," he said.
In addition, the president pledged to make Korea a bridge nation and create a "new Korean Peninsula" to make the country "unassailable."
"With a sense of responsibility befitting our economic strength, we will cooperate and further open our markets to neighboring countries and grow together with them," he said.
"With strength, we can become a country that connects the continent to the ocean. We can lead peace and prosperity in Northeast Asia."
President Moon also stressed that his administration's goal is to complete national liberation through reunification and a peace economy under which "peace fulfills prosperity."
"The peace economy begins not only with complete denuclearization of the Korean Peninsula, but also with consistent dialogue and cooperation so that North Korea will opt for economic prosperity instead of a nuclear program," he said.
"I pledge to solidify the foundation for a successful joint hosting of the 2032 Seoul-Pyeongyang Summer Olympics and stand tall in the world as one Korea by achieving peace and unification by 2045, which will mark the centenary of national liberation."
President Moon also mentioned last year's PyeongChang Winter Olympics, the Tokyo Summer Olympics next year and the Beijing Winter Olympics slated for 2022.
"This will mark an unprecedented serial hosting of the Olympics in East Asia, and is a golden opportunity for East Asia to walk toward common prosperity," he said.
On Japan's recent trade sanctions on Korea, he said, "If Japan comes forward to hold dialogue and cooperation, we will gladly cooperate."
"We hope that Japan reflects on its past as well as cooperate to jointly lead peace and prosperity in East Asia."
President Moon Jae-in's speech at the Independence Hall of Korea to commemorate the 74th anniversary of Korea's national liberation can be found in the link below:
http://www.korea.net/Government/Briefing-Room/Presidential-Speeches/view?articleId=174175&pageIndex=1